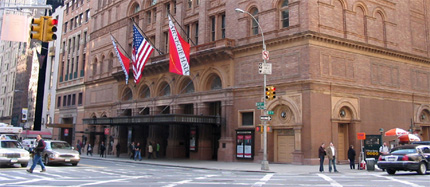 An old joke that has become part of the folklore of one of New York City's most famous concert venue runs as follows.

A pedestrian on Fifty-seventh Street, Manhattan, stopped violinist Jascha Heifetz and inquired:
- Could you tell me how to get to Carnegie Hall?
- Yes, said Heifetz. Practice!
That's indeed an option, but there are other ways to get to Carnegie Hall: Take the subway, grab a cab, take a walk and now also "Carnegie Hall Live" – a vibrant radio broadcast and digital series in partnership with WQXR 105.9, New York's classical station, and American Public Media.
On Wednesday, Feb. 15 at 8 pm, the recently Grammy nominated Norwegian pianist Leif Ove Andsnes presented a varied recital that touched on three centuries of solo piano repertoire.
Haydn: Sonata in C Minor, Hob. XVI:20
Bartók: Suite, Op. 14
Debussy: Images, Book I
Intermission
Chopin: Waltz in F Minor, Op. 70, No. 2
Chopin: Waltz in G-flat Major, Op. 70, No. 1
Chopin: Waltz in D-flat Major, Op. 70, No. 3
Chopin: Waltz in A-flat Major, Op. 42
Chopin: Ballade in A-flat Major, Op. 47
Chopin: Nocturne in B Major, Op. 62, No. 1
Chopin: Ballade in G Minor, Op. 23
Encores:
Chopin: Waltz in A-flat Major, Op. 34, No. 1
Granados: Spanish Dance No. 5
Rachmaninoff: Etude-tableau in C Major, Op. 33, No. 2
Listen to the complete recital along with Leif Ove talking to Jeff Spurgeon about which Steinway piano to choose for the recital (2.20) and about the music in the program (1.06.34).
---
More about Andsnes:
Grammy nominee Leif Ove Andsnes is ready to play
Leif Ove Andsnes' official website
/nilsjohan