Odradek Records – An Artist Controlled Music Label
Lovers of classical piano music have another reason to celebrate thanks to a radical new music label that places a focus on artist-controlled material.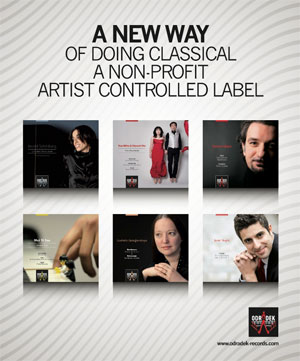 Odradek Records is a music label based in the United States that specializes in classical music, particularly piano music. It was founded by company director John Anderson, who wanted to provide recording facilities and opportunities to musicians who wanted to release recordings without the constraints and demands of some of the larger record labels. Anderson believes that these independent classical musicians have a lot to offer to the world of classical music, and that all they need is an opportunity to record and release their music in a format that can reach a greater audience. The artists who make recordings through Odradek Records do so through an open application process that has little consideration for their financial status, political background or past success. In short, anybody with the proper musical talent has the opportunity to record music with Odradek Records and have almost complete creative control.
Non-profit
In addition to providing a platform and environment for musicians to record their music, Odradek Records also offers all of its net profits to the artists. Anderson states that the label focuses on recuperating its expenses as opposed to accumulating capital, a factor that buys Odradek Records freedom from the politics that can sometimes dominate the music industry.
Focus on Piano Music
For now, Odradek Records has decided to focus on classical piano music. Since its inception, the record company has attracted several talented musicians from all over the world including Duo Miho, Masumi Hio and Domenico Codispoti. Some of the label's recent releases include the complete Schoenberg piano works as performed by Pina Napolitano, and it has first recording rights from Boosey & Hawkes for the piano etudes by Unsuk Chin. Odradek Records also had its first series of music festivals from June 30 to July 21 throughout Italy.
Recordings from Odradek Records are currently available through Amazon.com. Digital recordings are also available through iTunes and the company's website. Visit www.odradek-records.com for more information on new and upcoming releases.