The Complete Piano Music by Franz Schubert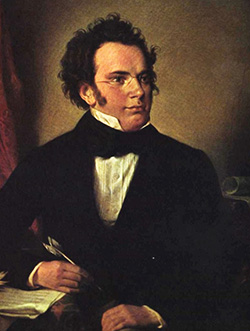 Unlike Mozart, Beethoven, Liszt or Chopin, Schubert was not a keyboard virtuoso. He played the piano only in the intimate gatherings known as Schubertiads. Nevertheless, he is certainly one of the greatest composers for piano, exploring the expressive potential of the keyboard in a succession of masterpieces for solo piano, piano duet, chamber music and song accompaniment. Therefore, it's an event worth celebrating when Piano Street now publish his dances as well as his complete piano sonatas, which in addition to the previously available selection of Impromptus, Moments Musicaux and many other pieces give you the complete picture of Schubert as a composer for the piano.
The charming miniatures
The numerous dances now made available on our site are simple, graceful and melodic works, of which many are suitable for the intermediate player.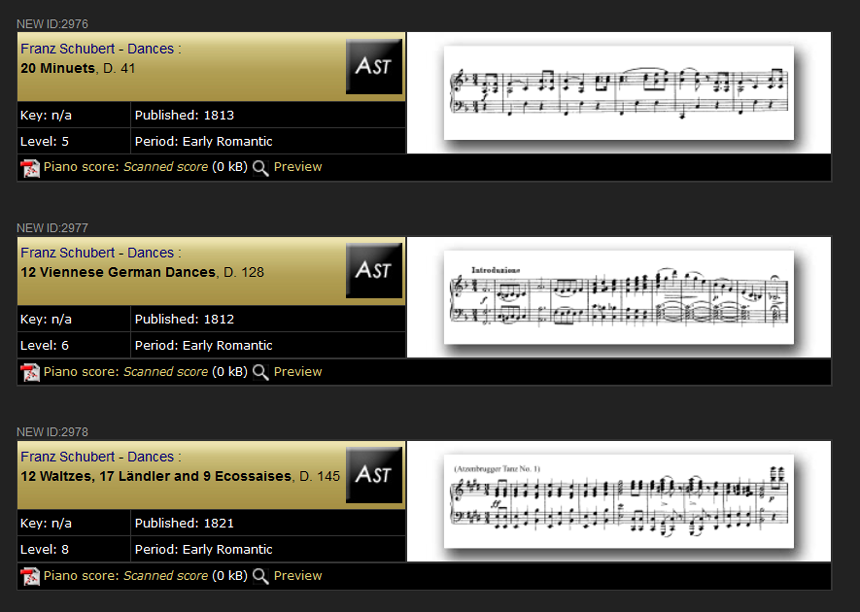 The dance was a part of Schubert's output throughout his life. His ability to compose a steady stream of these charming miniatures contributed to what little public recognition and income he had; on the other hand, almost none of Schubert's larger piano works were published during his lifetime. The sonatas were, if not a well-kept secret, practically unknown to the larger public.
The secret, great works

Between 1815 and 1828, Schubert began work on 23 piano sonatas. Of these, he only completed fourteen. The nine unfinished ones fall into three different categories: 1) fragments of sonata movements that break off after the exposition; 2) sonatas that seem more or less complete but where one or more movements might be missing; 3) sonatas that have unfinished movements. Some of these movements, where Schubert stopped writing at the point of recapitulation, can be considered complete in the sense that all the musical material needed is present – to finish them all you need to do is to repeat the exposition with the necessary adjustments (transposing secondary themes etc), possibly including a coda.
This raises a lot of questions for both editors and performers. Which works should be included in a "complete" edition of the sonatas, and in what order are they to be presented? Can incomplete sonata movements be performed at all? If you perform them, should you stop playing where Schubert left off or compose your own ending?
So, how many sonatas are there?
The most authoritative scholarly edition so far, Bärenreiter's Neue Schubert Ausgabe (1996-2003), numbers 19 sonatas. However, the numbering encountered in most recordings and on most web pages listing Schubert works, runs to 21. Piano Street adopts this numbering and includes 21 works in our collection of Schubert sonatas.
To the sonatas that seem to lack one or more movements, we have added movements that have been repeatedly suggested by scholars and which are often included in recordings and performances. For example, the Sonata in E minor, D.566, may have been intended by Schubert as a two-movement sonata (I. Moderato- II. Allegretto) although a Scherzo was written into the same manuscript. In this case, Piano Street publishes the Scherzo as well as a fourth movement, the Rondo in E major, D.506. This piece was suggested as the missing fourth movement as early as 1905, and has been included in several urtext editions of the complete sonatas.
Movements that have been handed down in incomplete form are published as fragments. We leave it to the performer to decide whether to leave off where Schubert did, or to try to complete the movement.
Enjoy the new publications and become an expert in the piano music of Franz Schubert!
We are happy to be able to present an even more complete and useful Schubert piano sheet music library and wish you many happy hours exploring the great masterworks for piano by Franz Schubert.
All pieces are available to instantly dowload and print but not least to study or just enjoy in Piano Street's unique Audiovisual Study Tool.
---
Reader question:
Which is your favourite piano work by Franz Schubert?
Please post your answer and comments below.