Classical Piano Sheet Music to Download and Print

or to View in Your
Mobile Device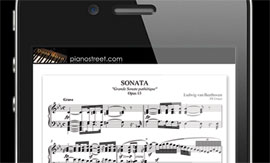 ---
Sign-up now
For instant access to the printable sheet music of
Nocturnes by Chopin
and thousands of other classical piano pieces,
sign up
for a Piano Street Gold Membership!
Frédéric Chopin: Nocturnes
The Nocturnes span the whole of Chopin's career, and among them are some of the composer's most beloved works, such as the infinitely tender and graceful Op. 9 No. 2 in E-flat. But they can also be viewed as a sort of experiment chamber, where Chopin, so to speak in the obscurity of the dark, tries out some of his most daring harmonic and formal inventions.
Mention is often made of the influence on Chopin of the Irishman John Field, generally credited as the father of the nocturne. While there is no doubt that links exist between the two, it's also certain that Chopin's temperament was quite different from that of his predecessor, as was the range of his modes of expression.
Liszt wrote:
"Chopin, in his poetic Nocturnes, sang not only the harmonies which are the source of our most ineffable delights, but likewise the restless, agitating bewilderment to which they often give rise".
Sheet Music Downloads:
Posts in the piano forum about Nocturnes by Chopin:

Happiest Chopin Nocturne?

July 02, 2011, 10:20:18 PM by celestialriceball


New to the forums. Searched, but I couldn't find anything.

(And by the way, to you picky-forumgoers who criticize every little thing, I know that nocturnes are meant to convey a feeling of emotion that most people don't describe as "happy")

Anyways, being the polar opposite to the "saddest nocturne" thread/threads floating around, what is the happiest nocturne? In my experience of listening to his nocturnes off/on, I would say Op. 9 No 2. However, what do you guys think? What is the most happiest/not-at-all-sad nocturne composed by Chopin?



Saddest nocturne of Chopin.

March 31, 2011, 12:54:51 AM by presto agitato


Hello
In your opinion, which is the saddest nocturne of Chopin?
I think Op 72 in E minor could be the saddest one.
I really like to know your opinion. Thanks.




a Chopin Recital

January 09, 2011, 02:06:37 PM by frank_48


i am thinking of a hiring a venue for a chopin recital at the end of the year, i was thinking to be worth it, i would play about 20 pieces, going for roughly 90 mins these are the pieces i was hoping to play, i know the first 10 already, so its only a matter of learning the last 10 pieces in a matter of 11 months, what do you think, feasible?

1. Fantaisie Impromptu
2. Op.10 No.3
3. Op.9 No.1
4. Op.69 No.2
5. Op.28 No.4
6. Op.15 No.2
7. Op.Posth No.20
8. Op.28 No.1
9. Op.28 No.13
10. Waltz, No.16

11. Op.37 No.1
12. Op.72 No.1
13. Op.69 No.1
14. Op.64 No.2
15. Op.28 No.15
16. Op.9 No.2
17. Op.27 No.2
18. Op.62 No.2
19. Waltz, Op.18
20. Prelude, Op.45

this is merley a thought at the present time, im not sure how things will turn out in the end.





Nocturne as a musical form?

June 21, 2009, 06:20:12 PM by soitainly


I was reading through another thread about Chopin's Nocturne in Cm and people were saying it strayed somewhat from the nocturne form. I didn't realize that a Nocturne was a form, just a name for a series of Chopin pieces that had a certain mellow feel. When I think of form I think of Sonatas or Minuets and the like with some definable structure. What are the defining structural characteristics of a Nocturne?