Classical Piano Sheet Music to Download and Print

or to View in Your
Mobile Device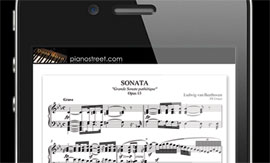 ---
Sign-up now
For instant access to the printable sheet music of
Beethoven Symphonies by Liszt
and thousands of other classical piano pieces,
sign up
for a Piano Street Gold Membership!
Franz Liszt: Beethoven Symphonies
Liszt began his Beethoven Symphony transcriptions in 1838, completing Symphonies Nos. 5, 6 and 7.  But it would not be until 1865 that Liszt would complete his set at the behest of the publisher Breitkopf & Härtel.
Liszt reworked the original three transcriptions and sped his way through the remaining Symphonies, although he conceded "the impossibility of making any pianoforte arrangement of the 4th movement [of the 9th symphony] ...that could in any way be...satisfactory".
Liszt´s Beethoven transcriptions remain a mountain in the piano repertoire: they bear witness both to his reverence for Beethoven and his genius in the art of transcription.
Sheet Music Downloads:
Posts in the piano forum about Beethoven Symphonies by Liszt:

Beethoven-Liszt Symphonies

June 25, 2008, 05:02:19 PM by akonow


Are the Beethoven-Liszt symphonies particularly difficult in comparison to other Liszt pieces? No. 6 in particular.



Beethoven Symphonies - Which one would you play?

October 06, 2007, 05:04:39 AM by dnephi


As many of you know, the Beethoven-Liszt Symphonies stand as arguably the greatest work of transcription ever completed.

Horowitz said that they were "the greatest piano pieces ever written."

Now, if you were to play one, and only one- which one would it be?

Things to consider:

1. Length - How long will it take to perform/learn?
2. Difficulty - How much work & for how long would you need to work?
3. Suitability- How effectively is the music conveyed through the keyboard?

I look forward to hearing your responses.



Beethoven symphonies piano transcriptions and Sonatas

June 17, 2005, 01:54:23 PM by stormx


Hi !!




Recently, i have been listening to Beethoven's symphonies Liszt piano transcriptions (N° 2, 4, 5, 6 and 9. Konstantin Scherbakov(sp?), NAXOS).

Let suppose you ignore they are indeed piano transcriptions of orchestral music, and analyse them as PIANO WORKS.

My questions:

How do they compare with Beethoven's piano sonatas?
Do they have the structure of a piano sonata?
Do they sound much different than Beethoven's piano sonatas?
What are, if any, the most obvious differences?

Thanks