Classical Piano Sheet Music to Download and Print

or to View in Your
Mobile Device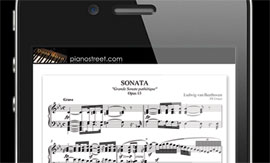 ---
Sign-up now
For instant access to the printable sheet music of
Paganini Etudes by Liszt
and thousands of other classical piano pieces,
sign up
for a Piano Street Gold Membership!
Franz Liszt: Paganini Etudes
The Grandes Etudes de Paganini as we know them are revisions of an earlier version from 1838, the Etudes for Transcendental Technique.
Liszt first heard Paganini in April 1831 and was so entranced by the expressiveness and technical wizardry of this master violinist that he immediately declared his intention of achieving upon the piano an equivalent technical revolution.
Most of the Paganini Etudes are more or less straight-forward transcriptions for piano of some of Paganiniís 24 Caprices for Solo Violin, Op 1, published in 1820.
Etude No. 6 is based on Paganiniís 24th Caprice, a variation set, the theme of which has become very well known because it has been used by several other composers for new variation works (Brahms, Rachmaninoff and Szymanowski among others).
Sheet Music Downloads:
Posts in the piano forum about Paganini Etudes by Liszt:

Liszt Paganini Etudes

April 22, 2011, 09:35:31 AM by franz_


Yes yes, indeed, another one:

Which one is the most easy, which the most difficult?

And how do you rank Nr. 4 particulary?



Difficulty of Various Etudes

August 27, 2006, 10:01:40 AM by cloches_de_geneve


I would like to pick a couple of those and would appreciate any comments on these pieces by members that played them. Thanks.



Liszt Paganini Etudes no.3 vs. no.6

June 28, 2006, 07:33:29 PM by monsieurrenard


I'm thinking of playing one of them. I'll probably end up playing both eventually, but I'm wondering which one is easier, and how much harder is the other one. I love la campanella, but then again it's a bit overplayed and I really like no. 6 as well.

What do you guys think?

-Monsieur Le Renard



Etudes

February 16, 2006, 01:11:11 AM by chopinfan_22


I have a question about Liszt's Etudes. Now I know some of them are completely off the wall... but to any of you that have played/taught them, how helpful are they? I was thinking of trying his first Trascandental Etude (in C). It's only two pages... the last page being arpeggios. I just wanted to gather an opinion. Thanks.