Classical Piano Sheet Music to Download and Print

or to View in Your
Mobile Device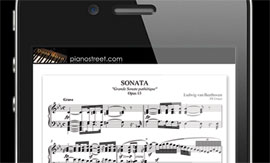 ---
Sign-up now
For instant access to the printable sheet music of
Concertos by Rachmaninoff
and thousands of other classical piano pieces,
sign up
for a Piano Street Gold Membership!
Sergey Rachmaninoff: Concertos
Rachmaninoff was only 18 years old when he composed his first piano concerto, the summer of 1891. The premiere took place the following year at the Moscow Conservatoire, with Rachmaninoff himself playing the solo part.
Five years later, he witnessed the disastrous premiere of his Symphony no.1, with a drunk conductor: "At times, I covered my ears to block out my own music, whose dissonances were a veritable torture to me". The disaster contributed to a time of depression, lasting until the creation of the second piano concerto, one of Rachmaninoff's best loved works. It is dedicated to the psychologist Dr. Nikolai Dahl, who had helped him recover his confidence. Planning a tour of the United States, Rachmaninoff decided to write a third piano concerto, designed to showcase his talents as a pianist. Composed quickly, and rehearsed on a mute keyboard as Rachmaninoff crossed the United States, it requires great virtuosity and has the most complex structure of the concertos. The fourth concerto in one of the few works composed in the US, where Rachmaninov had moved to avoid the Russian Revolution. After ten years of compositional silence and regular piano recitals, he took up various sketches composed in Russia. The premiere of the resulting concerto was met with little enthusiasm. Rachmaninov revised it 15 years later, making it the last original composition on which he worked.
Sheet Music Downloads: