Classical Piano Sheet Music to Download and Print

or to View in Your
Mobile Device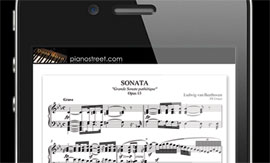 ---
Sign-up now
For instant access to the printable sheet music of
Concertos by Rachmaninoff
and thousands of other classical piano pieces,
sign up
for a Piano Street Gold Membership!
Sergey Rachmaninoff: Concertos
Sheet Music Downloads:
Posts in the piano forum about Concertos by Rachmaninoff:

Rachmaninoff - Piano Concerto w/ Piano Reduction Recording

June 03, 2011, 03:55:03 PM by naumdar


Hi there,

I am a new member and look forward to discussing piano with all of you and hoping it will improve my terrible playing ability somewhat



I was wondering if anyone knew a recording of any of the Rachmaninoff Piano Concertos with the accompaniment reduced for paino.

I'm not even sure if this is done or customary, I can't seem to recall coming across piano concertos with piano reductions but my recording knowledge is not exactly vast.

Any ideas would be greatly appreciated.

Thanks



"Easiest" concerto of Rachmaninoff?

May 16, 2011, 01:04:43 PM by poiuytrewq11zc


Rachmaninoff was known for writing very demanding music, and it is often displayed in his 4 concerti, as well as his Rhapsody on a Theme of Paganini. Out of all his music written for piano and orchestra, which would be considered the least difficult to play?



Of the four concerti written by Rachmaninoff, which is most difficult to least?

July 05, 2010, 12:05:27 AM by arvhaax93


..in ranking order?

I know it can vary depending on the strengths and weaknesses of the pianist, but a general order would be appreciated.
PS: I am well aware that Rachmaninoff's 3rd is the most difficult, but i'd still like to know the ranking of difficulty of his other 3 concerti