Classical Piano Sheet Music to Download and Print

or to View in Your
Mobile Device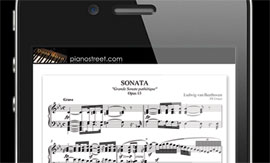 ---
Sign-up now
For instant access to the printable sheet music of
Concertos by Beethoven
and thousands of other classical piano pieces,
sign up
for a Piano Street Gold Membership!
Ludwig van Beethoven: Concertos
Beethoven's piano concertos represent the climax of the Classical concerto, but also functioned as models for the Romantic composers.
In the first three (of which No.1 actually followed No.2 in order of composition) the spirits of Mozart and Haydn are very much present: for example, the C minor concerto is clearly modelled on Mozart's concerto K. 491 in the same key, which Beethoven played in concerts. At the same time, Beethoven gives a lot more importance to the orchestra than his predecessors, to the extent that in the last two concertos one could almost speak of symphonies with piano obbligato. Among many important inventions is the built-in cadenza (5th concerto), incorporated into the main body of the movement instead of being extemporised by the performer.
Sheet Music Downloads: