Classical Piano Sheet Music to Download and Print

or to View in Your
Mobile Device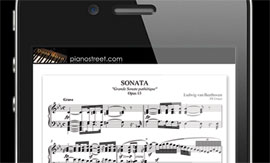 ---
Sign-up now
For instant access to the printable sheet music of
Six Pieces by Brahms
and thousands of other classical piano pieces,
sign up
for a Piano Street Gold Membership!
Johannes Brahms: Six Pieces
Of Brahmsís late collections of piano music, this is perhaps the one arranged most efficiently to work as a set.
Indeed, the introductory character and ambiguous harmony of the first piece makes it almost impossible to play on its own.
The second piece is one of Brahmsís most beloved creations, a deeply lyrical and moving nocturne.
As with all Brahmsís piano pieces from the 1890s, these masterful miniatures are full of the motivic density and complexity so typical of his later style.
The pieces were sent as a gift to Clara Schumann immediately upon their completion. Brahms biographer Jan Swafford has surmised:
ďhe may have composed the pieces to try and keep Clara Schumann going in body and soul. Since she could only play a few minutes at a time now, and because she loved these miniatures so deeply, maybe they did keep her alive.Ē
Sheet Music Downloads:
Posts in the piano forum about Six Pieces by Brahms:

116, 117, 118, or 119?

January 03, 2009, 09:47:29 PM by cloches_de_geneve


I'd like to learn one of these late Brahms cycles, perhaps also to put them on concert programs later on. Anyone who has learned them all, or some or having experience performing them? Feedback most welcome!




Brahms opus 118

April 01, 2008, 06:39:35 PM by andantemolto


I would like to know the views of pianists who have mastered all of Brahms pieces OP.118
Any tips would be good, to make a good performance of this work.


idil biret and brahms

November 19, 2006, 01:16:54 PM by pianistimo


i happened to hear idol biret play the entire op. 118 of brahms and was stunned. i didn't know that much about her? berfore - but i was entirely enraptured by her playing of the op. 118. does anyone else feel similarly?