Classical Piano Sheet Music to Download and Print

or to View in Your
Mobile Device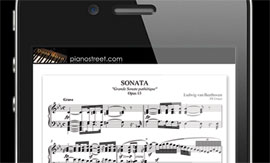 ---
Sign-up now
For instant access to the printable sheet music of
Ballades by Chopin
and thousands of other classical piano pieces,
sign up
for a Piano Street Gold Membership!
Frédéric Chopin: Ballades
The Ballade or Ballad was originally a sung poem, recounting a myth or an historical event. The form, with its connotations of simple folkloric authenticity, became popular in literature with the rise of Romanticism; Chopin is usually credited with originating the genre for the piano.
The first three Ballades are said to have been inspired by poems by Adam Mickiewicz, a Polish poet living in exile in Paris like Chopin himself, although Chopin never confirmed the precise sources or programs for these works.
Sheet Music Downloads:
Posts in the piano forum about Ballades by Chopin:

some questions about Chopin ballades:)

July 04, 2011, 05:24:03 AM by ihavetoleave


which poem was Op.52 based on?
I didn't get a main idea,maybe it tells something about the passed days?
So what did it want to express?



Seeking recordings: Frankl plays Chopin ballades and polonaises

December 14, 2010, 06:02:06 PM by josh h


Hi,

Can anyone suggest a place where I can purchase or acquire CD or mp3 (or other PC-based formats) recordings of Peter Frankl playing Chopin's ballades and polonaises?

I purchased these recordings about 20 years ago on cassette tapes. Needless to say, I don't have a tape deck anymore (and even if I did, I listened to the tapes so often that they're damaged by now).

I rarely hear anyone talk about Frankl's performances of these works, but to me they are the best I've ever heard. The piano he's playing has a beautiful warm tone with no tinniness. His playing is brisk and contains the needed technique to execute these pieces, but is not rushed. Perhaps most importantly, he plays the pieces "straight" - without over-exaggerated changes in tempo or dynamics - and lets the music in these masterpieces speak for itself.

I've searched iTunes and Amazon. I've looked in record stores. I've done google searches. All with no results.

Any guidance or suggestions welcome. Thoughts on these recordings are also welcome.

Thanks,
Josh



Chopin Ballades

March 10, 2010, 03:00:19 PM by sjeon


My favorite pieces of all the times- Chopin Ballades.
It is, in my opinion, chopin's best pieces.
Wich is your favorite one?