Classical Piano Sheet Music to Download and Print

or to View in Your
Mobile Device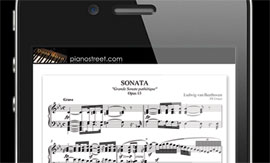 ---
Sign-up now
For instant access to the printable sheet music of
Scherzi by Chopin
and thousands of other classical piano pieces,
sign up
for a Piano Street Gold Membership!
Frédéric Chopin: Scherzi
Contrary to their name, the four scherzos are not light-hearted compositions, and the first three, in particular the Scherzo in B minor, have very strong dramatic accents.
The first and last make the most of the ternary form, with extreme contrasts between the outer sections, full of restless motion, and the melodious middle episodes. The second and third scherzos shows Chopin's ingenuity in creating new complex and dramatised forms, full of astonishing changes, sudden pauses and contrasts.
The most popular of these pieces is the B-flat Scherzo, Op. 31. Chopin himself used it in his teaching and admonished his pupils to play the famous first bars in a manner that evoked the image of a mortuary.
Sheet Music Downloads:
Posts in the piano forum about Scherzi by Chopin:

Chopin Scherzos: Obligatory Topic

September 06, 2007, 01:03:41 AM by dnephi


Discuss the following about all 4.

1. Character
2. Form
3. Technique- How demanding is it? In what ways? How much would you say it develops it?

A. Scherzo No. 1
B. Scherzo No. 2
C. Scherzo No. 3
D. Scherzo No. 4

For example,

A. 1. Demonic, intense.
2. Pretty much standard FSF, S being the trio, with a dashing coda. The recapitulation is interesting.
3. I know little, as I've never studied the sonata.

Etc...

Thanks all

.



Can you grade difficulties of these pieces from easiest to hardest?

November 10, 2006, 07:39:31 AM by redrum232


Chopin: Ballade no 1, Ballade no 2, Ballade no 3, Scherzo no 3, Scherzo no 2, Berceuse, Polonaise Heroique , Beethoven: Waldstein movement 1, movement 3; Appasionata movement 1, movement 3.




I'm searching for next repertoire. I' m quite sure that the Berceuse is significantly easier than the rest, but i don't know the distance of difficulties between that one and the others( for example: ballade 2 or scherzo) if i learn both of them at the same time...



Pick a Chopin scherzo for me! (Or at least help me decide).

July 19, 2006, 02:56:04 AM by lagin


Okay guys, which Chopin scherzo should I learn and why? And does anyone know about how many pages each of them are? (Want to prepare myself for memorization purposes!) Also, technically, not musically, can someone rate their order of difficulty? I don't want to accidentally pick the hardest one! Thanks.



chopin

June 02, 2006, 04:59:03 PM by elevateme


just a bit of fun