Classical Piano Sheet Music to Download and Print

or to View in Your
Mobile Device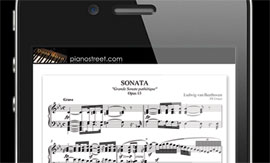 ---
Sign-up now
For instant access to the printable sheet music of
12 Grand Etudes by Liszt
and thousands of other classical piano pieces,
sign up
for a Piano Street Gold Membership!
Franz Liszt: 12 Grand Etudes
This is an expanded reworking of a set of etudes Liszt had composed in 1826, called Etude in 12 Exercises. The 12 Grand Etudes were in their turn revised – and in many cases simplified – into the more famous version called Transcendental Etudes. Schumann declared that the pieces (in this 1837 version) were playable by "at the most, ten or twelve players in the world" – probably an overstatement.
Sheet Music Downloads:
Posts in the piano forum about 12 Grand Etudes by Liszt:

An chopin or a Liszt etude?

February 14, 2009, 05:39:44 PM by njalli


Hello im 14.. allmost 15 years old. i have been playing for 4 years and im playing the 3rd movement from mozart sonata K. 330 and now im going to play soon the 1st movement.

But.. lets get to the point


There is a piano competition that is held every 3 years. And the requirements for age 15-18 are:

first part of a piano sonata
an virtuoso etude composed by liszt or chopin
a romantic piece
a piano piece of choise
and i think that that is all. My teacher thinks that i could compete now or in 3 years. if i compete now would make it harder to win because the chopin and liszt etudes are hard. instead of competing this year and again in 3 years i could just compete after three years

my teacher sayd today that she will try to find a manegeable etude for me to play if she finds one.

any suggestions for a etude to play?


--------------

Njall

-------------

Beethovens last sonata no 32, op 111 is the best of his sonatas!



Difficulty of Various Etudes

August 27, 2006, 10:01:40 AM by cloches_de_geneve


I would like to pick a couple of those and would appreciate any comments on these pieces by members that played them. Thanks.



Liszt- 12 Grand Etudes

July 22, 2006, 04:39:31 PM by thorn


I just wanted to ask: just because these Etudes are never performed (arent there something like only two recordings ever made of them?), does that mean they should never be performed?

I spoke to a music teacher about it and he said that there is no point in putting such effort into the Grand Etudes, where you can put the same amount into the Transcendentals which are technically easier and more appreciated.

Has anyone else learned any of the Grand Etudes? Which of them are worth learning as well as their counterpart in the Transcendentals?