Classical Piano Sheet Music to Download and Print

or to View in Your
Mobile Device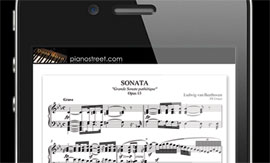 ---
Sign-up now
For instant access to the printable sheet music of
Etudes-Tableaux by Rachmaninoff
and thousands of other classical piano pieces,
sign up
for a Piano Street Gold Membership!
Sergey Rachmaninoff: Etudes-Tableaux
The title of these sets of studies suggest some kind of picture-pieces, but Rachmaninoff never wanted to disclose what he had wanted to depict, but said that he preferred to let the pieces "paint for themselves". Op. 33 was originally meant to comprise nine pieces, but the composer decided to publish only six of them in 1911.
Numbers three and five were published posthumously; number four reappeared as Op. 39 No. 6.
Op. 39, published in 1917, is the last substantial composition written by Rachmaninoff while still in Russia. It's clearly influenced by Rachmaninoff's younger contemporaries Prokofiev and Scriabin.
Rachmaninoff had studied Scriabin´s works intensely to prepare a memorial recital (Scriabin died in 1915).
Sheet Music Downloads:
Posts in the piano forum about Etudes-Tableaux by Rachmaninoff:

Guesses at meaning of Rachmaninoff Etudes?

March 14, 2011, 12:56:02 AM by charvin


Hello,

I'm planning to learn several of the Rachmaninoff etudes for my junior recital, and I read that Rachmaninoff did not disclose the images behind them. So I thought I'd open up possible interpretations for discussion.

The one's I'm playing are Op. 39 1, 3, 6 and 9, but input on any of the etudes is welcome.

I'll start off with my own interpretation of Op. 39, 1.

Op. 39, 1. Stormy hurricane tossing a boat out on the open sea. The boat passes into the eye of the storm and has a breathe of tranquility before heading back into the storm and eventually being smashed up and sinking to the bottom of the sea.






Rachmaninoff Etudes

January 31, 2009, 09:16:26 PM by zheer


Those of you who are not very familiar with these etudes, I'd recommend them, especially if you appreciate Rachmaninoff. It has taken me a long time to appreciate these Etudes due mainly to the Chopin Etudes. Some of the Rach Etudes sound modern, they are very dark, romantic and slightly abstract, Technically they are less demanding than Chopin etudes, so that is a welcoming relief.