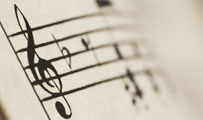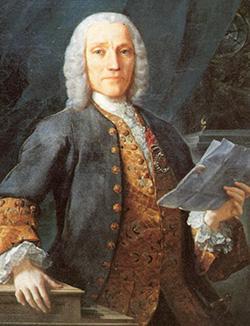 Scarlatti - Piano Music
Like his father
Alessandro, Domenico Scarlatti
(1685-1757) wrote both operas, cantatas and other vocal works, although his greatest achievement lies in his
555 keyboard sonatas
.
Domenico's first appointment was as organist and composer for the Royal Chapel in Naples, conducted by his father. At age 18, he made his debut as opera composer with
L´Ottavia ristituita al trono
and
Il Giustino
(both 1703). He travelled to Florence and Venice, probably making the acquaintance of Vivaldi. In 1708, Scarlatti arrived in Rome where he soon entered the service of Maria Casimira, the exiled queen of Poland. Later he became head of the
Cappella Giulia
at St.Peter's Church
.
During this time he composed most of his vocal works, among them several operas for Queen Casimiras private theatre. In Rome, Scarlatti is also supposed to have met Handel and participated in a contest where he was judged possibly superior to Handel on the harpsichord, although inferior on the organ. Later in life, he was known to cross himself in veneration when speaking of
Handel´s
skill. Scarlatti's friendship with the Portuguese ambassador to Rome eventually led to an appointment as master of the Portuguese royal chapel in Lisbon. Scarlatti also gave keyboard lessons to the very talented princess Maria Barbara and other members of the nobility. Maria Barbara's great dexterity inspired Scarlatti to an explosion of keyboard creativity in which he explored quite new worlds of virtuoso technique. When his brilliant pupil married the Spanish prince Ferdinando in 1729, Scarlatti followed her to Spain. Scarlatti now made a brief return to vocal music, writing cantatas for the royal family's private musical soirées and working with singers such as Farinelli. He also continued to teach and spent quite a lot of time and effort on organizing his sonatas in manuscripts. These short one-movement works, often inspired by the sounds of Iberian popular music, and full of brilliant effects such as hand-crossings, wide leaps and rapid repeated notes, have remained an essential part of the keyboard repertoire.
Piano Sheet music by Domenico Scarlatti to Download
| | | |
| --- | --- | --- |
| Download & Print | View in Mobile Device | For instant access to the printable sheet music of pices by Scarlatti and thousands of other classical piano pieces, sign up for a Piano Street Gold Membership! |
Total pieces by Scarlatti: 193