Classical Piano Sheet Music to Download and Print

or to View in Your
Mobile Device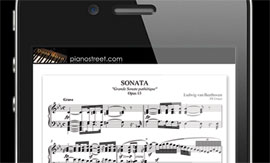 ---
Sign-up now
For instant access to the printable sheet music of
Sonatas by Scarlatti
and thousands of other classical piano pieces,
sign up
for a Piano Street Gold Membership!
Domenico Scarlatti: Sonatas
What Scarlatti is most prominently remembered for are the 556 short keyboard sonatas originally labelled Essercizi (Exercises). When he died in Madrid, Scarlatti left this treasury of manuscripts, which were largely unplayed beyond Spain and Portugal until pianist Carl Czerny published a selection of the sonatas in 1839.
Subsequently, an ostensibly complete set of sonatas was ordered and numbered by Luigi Longo (whose numbers begin with the initial "L") in 1906.
Ralph Kirkpatrick added to and reorganized the sonatas (designating them with a second numbering system with the initial "K") in a 1953 critical edition considered de rigueur for Scarlatti performance.
It is thought that many of Scarlatti´s 555 sonatas were envisioned in pairs, contrasting and complementing each other with regard to tonality, dynamics, tempo, complexity etc.
The result is an almost inexhaustible collection of pieces, the artistic value of which cannot be overestimated.
Sheet Music Downloads:
Posts in the piano forum about Sonatas by Scarlatti:

Replacement for Scarllati Sonatas

March 28, 2011, 03:14:48 PM by countrymath


I read about scarlatti sonatas here and found that they are good pieces for technique development, but i dont like to listen to them

.

Does anyone knows some replacement for the sonatas? I mean, other pieces with similar technique?



Scarlatti Sonatas with LH Arpeggios?

August 31, 2010, 06:58:18 AM by brogers70


Bernhard used to be keen on Scarlatti as a replacement for Hanon and Czerny. Anybody know any Scarlatti sonatas with lots of work on LH arpeggios? I don't have a complete edition of all 500+ to scan through and I wasn't able to get a hint by searching old posts here. Any suggestions for an appropriate Scarlatti sonata?



Scarlatti

May 13, 2010, 09:24:03 AM by pianisten1989


Did he write anything but his sonatas? I haven't played anything by him, and I was looking for something a bit longer, like 7-8 minutes... But I don't know where to look.

Some advice would be nice