Classical Piano Sheet Music to Download and Print

or to View in Your
Mobile Device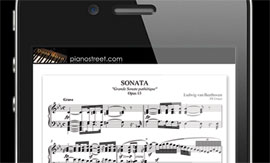 ---
Sign-up now
For instant access to the printable sheet music of
Preludes by Scriabin
and thousands of other classical piano pieces,
sign up
for a Piano Street Gold Membership!
Alexander Scriabin: Preludes
The 89 Preludes in Scriabin's output illustrate his unique artistic evolution. The 24 Preludes Op. 11, dating from 1888, are clearly in the Romantic tradition and show much influence from Chopin and Liszt, although Scriabin's own unique voice can already be discerned. The five sets Opp. 31, 33, 35, 37 and 39 were all written in the remarkably productive year of 1903, when Scriabin was moving ever closer toward atonality, while his personal life was marked by the deepening complexity of his theosophical ponderings. The extremely concentrated Five Preludes, Op. 74, of 1914 were among Scriabin's very last works. By this time he was a radically changed musician, on the doorstep of complete atonality and, to his own mind, the representative of divine creative force in an increasingly complex mystical world-view.
Sheet Music Downloads: