Classical Piano Sheet Music to Download and Print

or to View in Your
Mobile Device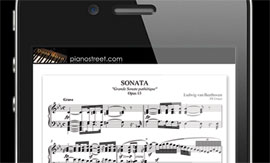 ---
Sign-up now
For instant access to the printable sheet music of
Preludes by Scriabin
and thousands of other classical piano pieces,
sign up
for a Piano Street Gold Membership!
Alexander Scriabin: Preludes
The 89 Preludes in Scriabin's output illustrate his unique artistic evolution. The 24 Preludes Op. 11, dating from 1888, are clearly in the Romantic tradition and show much influence from Chopin and Liszt, although Scriabin's own unique voice can already be discerned. The five sets Opp. 31, 33, 35, 37 and 39 were all written in the remarkably productive year of 1903, when Scriabin was moving ever closer toward atonality, while his personal life was marked by the deepening complexity of his theosophical ponderings. The extremely concentrated Five Preludes, Op. 74, of 1914 were among Scriabin's very last works. By this time he was a radically changed musician, on the doorstep of complete atonality and, to his own mind, the representative of divine creative force in an increasingly complex mystical world-view.
Sheet Music Downloads:
Posts in the piano forum about Preludes by Scriabin:

Scriabin's Preludes

July 09, 2011, 12:11:17 AM by qpalqpal


I am a pianist who can handle level 6/7 pieces and can barely get by a level 8 piece. What do you guys think of Scriabin's Preludes? Around what is the average level or just general difficulty?



Top 5 most difficult Scriabin's preludes Op.11

February 18, 2011, 03:56:35 PM by presto agitato


Hello

I really like those preludes; they are full of passion and mystery. I would like to learn some of those preludes but I want to play the most difficult ones.

Can you help me to select the top 5 most difficult one?

Thanks




Scriabin Preludes - "Titles" suggestions

January 15, 2011, 01:42:02 AM by storyseller


So for my next recital I decided to do a series of 24 preludes with a twist, 12 Chopin plus 12 Scriabin alternating like C/S/C/S.... etc.

The thing is I am in the process of gathering information to put down in the printed program of the recital. And while Chopin's Preludes have been extensively analyzed, I cant seem to find almost anything about Scriabin's.

I would be thankfull for any information regarding Scriabin's Preludes, the early ones more specifically.

And while at it, I would like to hear suggestions about possible titles to them. As I intend to include the titles of the Chopin ones given by both Cortot and Bullow, I would like to suggest "names" for the Scriabin ones as well.

Anyone?



Scriabin

July 08, 2008, 03:09:14 PM by eyeballnick


Do you prefer hes more "romantic" compositions, or do you think his more "Experimental" compositions are better, both favoured and musically.

I personally prefer his earlier romantic works, etudes op.8 no.11 and op.2 no.1 and preludes. u?