Classical Piano Sheet Music to Download and Print

or to View in Your
Mobile Device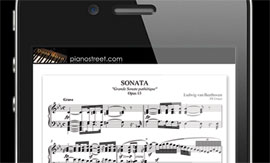 ---
Sign-up now
For instant access to the printable sheet music of
Sonatas by Beethoven
and thousands of other classical piano pieces,
sign up
for a Piano Street Gold Membership!
Ludwig van Beethoven: Sonatas
The Beethoven Sonatas have been called the New Testament of the piano repertoire (the old being Bach's Well-tempered Clavier).
Spanning the length of his compositional career, they illustrate Beethoven's musical development, and show both the piano as an instrument and the piano sonata as a genre undergoing an extraordinary evolution.
Unsurprisingly, the most famous sonatas are those with nicknames, mostly invented by other people than the composer: Pathétique, the earliest of the "name" sonatas was a complete shock to the musical world with the unprecedented violence of its expression.
Moonlight derives its name from the critic Ludwig Rellstab's likening of the first movement to moonlight as reflected on the surface of Lake Lucerne. When asked about the meaning of the Sonata Op. 31 no 2, Beethoven replied: "Read Shakespeare's Tempest".
The gigantic Hammerklavier Sonata, simply named after the German word for piano, occupies a pivotal position in Beethovens oevre: this work begins the transcendent spiritual odyssey of Beethoven's late period.
The last three sonatas, with opus numbers 109-111 are some of his most forward-looking and experimental works.
Sheet Music Downloads:
Posts in the piano forum about Sonatas by Beethoven:

Beethoven Sonata

July 04, 2011, 04:39:25 PM by pianovlad1996


Hello!


I recently finished Beethoven Sonata Op.90 (all movements) and I was wondering what sonata should I play. I decided to play another Beethoven. Please write some grade 8 and 8+ ( but not the op.100' sonatas because they are relly hard).


Beethoven Sonatas in Preparation for Appassionata

June 15, 2011, 11:09:48 PM by lorditachijr


Beethoven's Appassionata Sonata is one of my favorite sonatas he wrote, and I really want to work out the most efficient route to get to where I can play it. So far the sonatas I've completed(all movements) are: Op 49 No 1, Op 2 No 1, Op 13 and Op 27 No 2. I think next I want to do the Op 10 No 3, Op 7 or Op 31 No 2. Which of these do you think would help me prepare most for working on the Appassionata? My teacher said I am ready for any of those 3, and after I finish the one I choose I would really like to go ahead to the Appassionata. I haven't played any late sonatas yet, so do you think it would be more beneficial to do something like the Op 90 or the Op 78? I would appreciate any advice on this matter.



Overlooked Beethoven Sonatas?

April 22, 2011, 12:23:37 PM by bkaldridge


Is there a Beethoven Sonata that is lesser known but beautiful? I find myself getting bored trying to learn them if I don't enjoy them musically. Something as gripping as Pathetique or Moonlight Sonata but not as well known?



Please suggest a Mozart/Beethoven Sonata

March 07, 2011, 03:09:26 PM by wilmerguido


I'm not really a fan of Mozart or Beethoven, but then I need one for a competition... Please suggest something aside the overplayed ones like Moonlight/Pathetique... I'm still contemplating whether to learn Waldstein or not