Classical Piano Sheet Music to Download and Print

or to View in Your
Mobile Device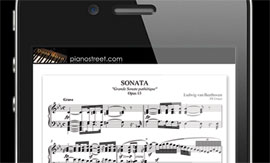 ---
Sign-up now
For instant access to the printable sheet music of
School of Velocity by Czerny
and thousands of other classical piano pieces,
sign up
for a Piano Street Gold Membership!
Carl Czerny: School of Velocity
One of Czernyís most widely used collections of studies, the School of Velocity focuses on scales, arpeggios and other common patterns and aims at increasing the speed and independence of the fingers.
The exercises are numbered in order of increasing difficulty, and progress from intermediate to advanced.
Sheet Music Downloads:
Posts in the piano forum about School of Velocity by Czerny:

Do you recommend me Czerny studies?

May 28, 2010, 11:41:19 AM by rubanetti


Well thats my question, i want to improve my technique, i have been study with the Hanon exercises, but im thinking about learn the differents schools of Czerny, the School of velocity and the school of virtuosity. Do you recommend those books to me?

Thanks you for your replys.

Regards



czerny op. 299

April 26, 2006, 03:34:15 AM by bigjohn


im teaching myself how to play the piano, and i just recently finished cerny's
school of velocity. does anyone have any recommendations on what to
study next? i was thinking about clementi's gradus ad parnassum, but im
not sure. Anyone?