Classical Piano Sheet Music to Download and Print

or to View in Your
Mobile Device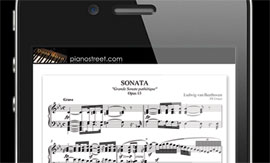 ---
Sign-up now
For instant access to the printable sheet music of
Transcendental Etudes by Liszt
and thousands of other classical piano pieces,
sign up
for a Piano Street Gold Membership!
Franz Liszt: Transcendental Etudes
Some may be surprised to learn that when revising the 12 Grandes Etudes from 1837 into the Transcendental Etudes, Liszt made several simplifications  – they certainly still pose enormous technical demands on the player.
Liszt also added programmatic titles to most of the pieces. The fourth study, Mazeppa, generally thought to be the most difficult piece of the set, is named after an historical person, Ivan Mazepa, page in the court of the Polish King John Casimir, whose fate was made famous by poems of Byron, Pushkin and Victor Hugo.
Mazepa became entangled with the wife of a nobleman, and for this he was punished by being tied naked to the back of a wild horse and dragged all the way to Ukraine.
Liszt later expanded and orchestrated the Étude to become the sixth in his cycle of symphonic Poems.
Sheet Music Downloads:
Posts in the piano forum about Transcendental Etudes by Liszt:

Liszt's transcendental etude urtext

October 07, 2010, 06:16:24 PM by 54545


Which of the following editions are the most accurate and reliable editions for the transcendental etudes?

I have found varous discrepincies between these two editions and I want to know which edition is closer to Liszt's intentions

1. Liszt-stiftung edition edited by Busoni

2. New-Liszt-Ausgabe (EMB) edited by Zoltán Gárdonyi



etudes op. 10&25

June 05, 2007, 09:32:24 AM by christiaan


If you have mastered Chopin`s Etude op. 25 no. 1, what is the next etude to start with? Please help. Any of the op. 10 or 25 are welkom.

O, and what is a good Liszt Transendental Etude to start with?