Classical Piano Sheet Music to Download and Print

or to View in Your
Mobile Device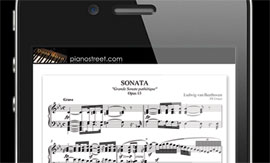 ---
Sign-up now
For instant access to the printable sheet music of
Impromptus by Schubert
and thousands of other classical piano pieces,
sign up
for a Piano Street Gold Membership!
Franz Schubert: Impromptus
The term Impromptu, fashionable for a short time in the first half of the 18th century, designates a free-form composition, for the most part highly organized, but retaining something of the sense of being the result of a sudden inspiration.
Schubert's Impromptus are among the most famous examples of the genre, but the title Impromptu was not assigned to these pieces by the composer himself but by the Viennese publisher Haslinger.
The two sets D. 899 and D. 935 were both written in 1827. Three other unnamed piano compositions, D. 946, written a few months before the composer´s death in 1828, are alternatively referred to as Impromptus or Klavierstücke.
Sheet Music Downloads:
Posts in the piano forum about Impromptus by Schubert:

Schubert Impromptus

February 13, 2016, 10:32:48 PM by chopinawesome


What is your favorite impromptu?
I like all of them of them but I like OP.142/1,Op.90/3, and Op.142/3 the best.



Schubert's Impromptus

August 11, 2010, 11:28:05 AM by doryanne


Hi,
I started taking piano lessons last year in March and I am quite happy with my progresses.
I like very much Schubert's Impromptus, especially Op. 90 nr. 3 and Op. 90 nr. 4 and listen to them often. They seem like very difficult pieces to me which require very good technique. Of course, after 1 year and a few months I don't master this technique, but do you think that I will a few years? Or are these pieces that only professionals can play?
Thank you!



Next Schubert Piece

January 08, 2007, 07:45:41 PM by eric9


I recently mastered Schubert's Impromptu Opus 142, #2 and really loved it. I've listened to his other Impromptus and am trying to decide which on to work on next. The 142 #2, is probably the easiest, most approchable of them all (right?). Which one would be a good next one to work on. Thanks.