Classical Piano Sheet Music to Download and Print

or to View in Your
Mobile Device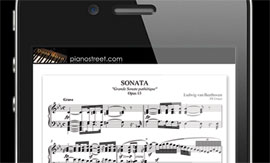 ---
Sign-up now
For instant access to the printable sheet music of
Sonatas by Mozart
and thousands of other classical piano pieces,
sign up
for a Piano Street Gold Membership!
Wolfgang Amadéus Mozart: Sonatas
There is a lot of truth in Arthur Schnabel's famous remark, "The sonatas of Mozart are unique; they are too easy for children, and too difficult for pianists".
Although most of Mozart's piano sonatas were intended for his own use in performance, some were in fact written for pedagogical purposes.
The Sonata No. 16 in C major was described by Mozart himself in his own thematic catalogue as "for beginners," and it is sometimes known by the nickname Sonata facile or Sonata semplice. It is possibly the most famous one, just because so many people have tried to play it. Another well-known sonata is the one in A major, No. 11. The last movement, Alla Turca, often heard on its own, imitates the sound of Turkish Janissary bands, much in vogue at that time. This kind of music was sometimes performed on pianos built with a "Turkish stop", allowing it to be embellished with extra percussion effects.
The two sonatas in the minor mode also belong to the more famous. Written around the time of the death of Mozart´s mother, Sonata No. 8 in A minor is the darkest of the series. The C minor Sonata, No. 14, is often preceded in performance by the Fantasy in C minor, K. 475, completed some seven months after the sonata. The two works were published together as the same opus.
Sheet Music Downloads:
Posts in the piano forum about Sonatas by Mozart:

Please suggest a Mozart/Beethoven Sonata

March 07, 2011, 03:09:26 PM by wilmerguido


I'm not really a fan of Mozart or Beethoven, but then I need one for a competition... Please suggest something aside the overplayed ones like Moonlight/Pathetique... I'm still contemplating whether to learn Waldstein or not



Mozart Sonata - help needed!

July 31, 2010, 09:43:14 PM by pianist94


Hey everybody! First of all, I hope I am posting in the right part of the forum - it's because I am still quite new on the forum and I am not very familiar with it yet.

Anyhow, I was hoping for some advice on a Sonata I can play for my piano Performance Diploma.I was thinking perhaps one of the following (which I obtained from the repertoire list for dipabrsm syllabus) which are all by Mozart:
Adagio in B minor, K.540. Mozart Mature Piano Pieces (ABRSM Publishing)
Sonata in D, K.284: complete (ABRSM Publishing)
Sonata in C, K.309: complete (ABRSM Publishing)
Sonata in D, K.311: complete (ABRSM Publishing)
Sonata in Bb, K.570: complete (ABRSM Publishing)
10 Variations on 'Les hommes pieusement' ('Unser dummer Pöbel meint'), K.455 (ABRSM Publishing)
9 Variations on a Minuet by Duport, K.573 (ABRSM Publishing)

If you think a Sonata by some other composer, such as a Haydn or Scarlatti, might be something I could consider, the full repertoire list can be found on this link (pages 36-7): http://www.abrsm.org/resources/performanceRepertoire.pdf

In general, all I want is a 3rd piece (does not have to be a sonata as I've included theme and variations works in the Mozart list above anyway) that would fit in the generalistic program towards which I'm working, that shows my technical abilities, that sounds nice in a recital and is enjoyable for me too. In case it's of any interest, the other pieces I have incorporated in my program so far are Listz's 'un sospiro' and Gershwin 'The man I love' and 'I got rhythm'

PLEASE, I'm really hoping for some replies - I am in great need of advice. Thanks in advance.