Classical Piano Sheet Music to Download and Print

or to View in Your
Mobile Device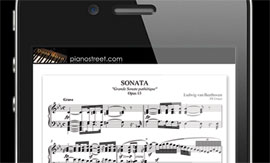 ---
Sign-up now
For instant access to the printable sheet music of
Preludes by Chopin
and thousands of other classical piano pieces,
sign up
for a Piano Street Gold Membership!
Frédéric Chopin: Preludes
Written partly during Chopin's catastrophic wintertime stay on Majorca, these are some of the composer's most mysterious works. Schumann said of them:
"They are sketches, beginnings of études, or, so to speak, ruins, individual eagle pinions, all disorder and wild confusions."
The 24 Preludes are written in all major and minor keys in the order of the circle of fifths. The title (obviously an allusion to Bach's preludes and fugues) can be a misleading one, as they are not introductions to anything, except possibly to the next prelude in the series – each piece is perfectly capable of standing on its own, although Op. 28 is often treated as a cycle and given a complete performance.
Sheet Music Downloads:
Posts in the piano forum about Preludes by Chopin:

Chopin Preludes - Difficulty?

May 16, 2011, 06:09:45 AM by chelsobladi


I am about to study these six Chopin preludes, and I would like some opinions on how they rank in difficulty (so I can decide where to start).

I know everyone is different, but I would appreciate any input.

No. 13 F# Major
No. 17 A-flat Major
No. 18 F Minor
No. 21 B-flat Major
No. 23 F Major
"No. 25" C# minor

Thanks very much.



Chopin 24 preludes - should they be performed in Unequal Temperament?

December 04, 2010, 01:52:46 AM by latrobe


Hi!

Below are examples of Chopin's 24 preludes performed by a student of Adolfo Barabino in Unequal Temperament -
http://www.youtube.com/watch?v=qdsFLIo9l88
http://www.youtube.com/watch?v=A34K-fj5nHs
http://www.youtube.com/watch?v=XpqrynlohR4

Do they feel "right"?

Here's the 4th Ballade performed in Unequal Temperament by another Barabino pupil -
http://www.youtube.com/watch?v=fJT5Q6HooyA

Does the unequal temperament throw the chords interspersing the two appegiated sections into a new dimension possibly missed in Equal Temperament?

As one goes through the keys
http://www.wmich.edu/mus-theo/courses/keys.html
could the key colour descriptions even be the programme notes? . . . :
1. Agitato ­ C major
Completely Pure. Its character is: innocence, simplicity, naivety, children's talk.
2. Lento ­ A minor
Pious womanliness and tenderness of character.
3. Vivace ­ G major
Everything rustic, idyllic and lyrical, every calm and satisfied passion, every tender gratitude for true friendship and faithful love,--in a word every gentle and peaceful emotion of the heart is correctly expressed by this key.
4. Largo ­ E minor
Naive, womanly innocent declaration of love, lament without grumbling; sighs accompanied by few tears; this key speaks of the imminent hope of resolving in the pure happiness of C major.
5. Molto allegro ­ D major
The key of triumph, of Hallejuahs, of war-cries, of victory-rejoicing. Thus, the inviting symphonies, the marches, holiday songs and heaven-rejoicing choruses are set in this key.
6. Lento assai ­ B minor
This is as it were the key of patience, of calm awaiting ones's fate and of submission to divine dispensation.
7. Andantino ­ A major
This key includes declarations of innocent love, satisfaction with one's state of affairs; hope of seeing one's beloved again when parting; youthful cheerfulness and trust in God.
8. Molto agitato ­ F-sharp minor
A gloomy key: it tugs at passion as a dog biting a dress. Resentment and discontent are its language
9. Largo ­ E major
Noisy shouts of joy, laughing pleasure and not yet complete, full delight lies in E Major.
10. Molto allegro ­ C-sharp minor
Penitential lamentation, intimate conversation with God, the friend and help-meet of life; sighs of disappointed friendship and love lie in its radius.
11. Vivace ­ B major
Strongly coloured, announcing wild passions, composed from the most glaring coulors. Anger, rage, jealousy, fury, despair and every burden of the heart lies in its sphere.
12. Presto ­ G-sharp minor
(A flat minor . . . ?) Grumbler, heart squeezed until it suffocates; wailing lament, difficult struggle; in a word, the color of this key is everything struggling with difficulty.
13. Lento ­ F-sharp major
A gloomy key: it tugs at passion as a dog biting a dress. Resentment and discontent are its language.
14. Allegro ­ E-flat minor
(D sharp minor . . . . ?) Feelings of the anxiety of the soul's deepest distress, of brooding despair, of blackest depresssion, of the most gloomy condition of the soul. Every fear, every hesitation of the shuddering heart, breathes out of horrible D# minor. If ghosts could speak, their speech would approximate this key
15. Sostenuto ­ D-flat major ("Raindrop Prelude")
A leering key, degenerating into grief and rapture. It cannot laugh, but it can smile; it cannot howl, but it can at least grimace its crying.--Consequently only unusual characters and feelings can be brought out in this key.
16. Presto con fuoco ­ B-flat minor
A quaint creature, often dressed in the garment of night. It is somewhat surly and very seldom takes on a pleasant countenance. Mocking God and the world; discontented with itself and with everything; preparation for suicide sounds in this key.
17. Allegretto ­ A-flat major
Key of the grave. Death, grave, putrefaction, judgment, eternity lie in its radius.
18. Molto allegro ­ F minor
Deep depression, funereal lament, groans of misery and longing for the grave.
19. Vivace ­ E-flat major
The key of love, of devotion, of intimate conversation with God.
20. Largo ­ C minor
Declaration of love and at the same time the lament of unhappy love. All languishing, longing, sighing of the love-sick soul lies in this key.
21. Cantabile ­ B-flat major
Cheerful love, clear conscience, hope aspiration for a better world.
22. Molto agitato ­ G minor
Discontent, uneasiness, worry about a failed scheme; bad-tempered gnashing of teeth; in a word: resentment and dislike.
23. Moderato ­ F major
Complaisance & Calm.
24. Allegro appassionato ­ D minor
Melancholy womanliness, the spleen and humours brood.

Is this temperament for those recordings "right"? Is it too strong? Does it give the desired effects?

Is this how instruments for the performance of Chopin should be tuned or is the experimental tuning a mere distraction from the music? Does the temperament help or hinder enjoyment and appreciation?

Best wishes

David P



Chopin preludes

October 13, 2009, 12:03:18 PM by thison3


I'm starting to study Chopin preludes and I've done a couple preludes before. Does anyone have a recommendation on which one i should start on?



chopin preludes

October 03, 2008, 10:49:02 PM by ptyrrell


Can anyone rank the chopin preludes in order of difficulty?