Classical Piano Sheet Music to Download and Print

or to View in Your
Mobile Device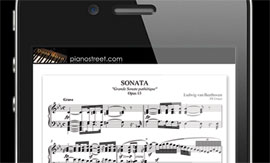 ---
Sign-up now
For instant access to the printable sheet music of
Sonatinas by Clementi
and thousands of other classical piano pieces,
sign up
for a Piano Street Gold Membership!
Muzio Clementi: Sonatinas
Central to Clementi´s oevre is his piano sonatas and sonatinas (he wrote over a hundred of them) The Op. 36 set had great success, which Clementi responded to not not only by writing more pieces in the same vein, but also by reissuing as sonatinas some of his earlier and easier sonatas. They continue to be popular pieces in piano education.
The Op. 36 sonatinas are numbered in order of increasing difficulty; within each one, there are specific "lessons" on specific technical problems, and rhythm, phrasing and accompaniment grow more complex from one sonatina to the other.
Sheet Music Downloads: