Piano Street's digital sheet music library contains both scanned authoritative and historical editions as well as modern editions engraved in-house by Piano Street's editors. Depending on your level of experience and where you are in the learning process of a particular piece, you may need fingering, pedal markings, practice and performance tips, or perhaps the opposite – a clean Urtext score.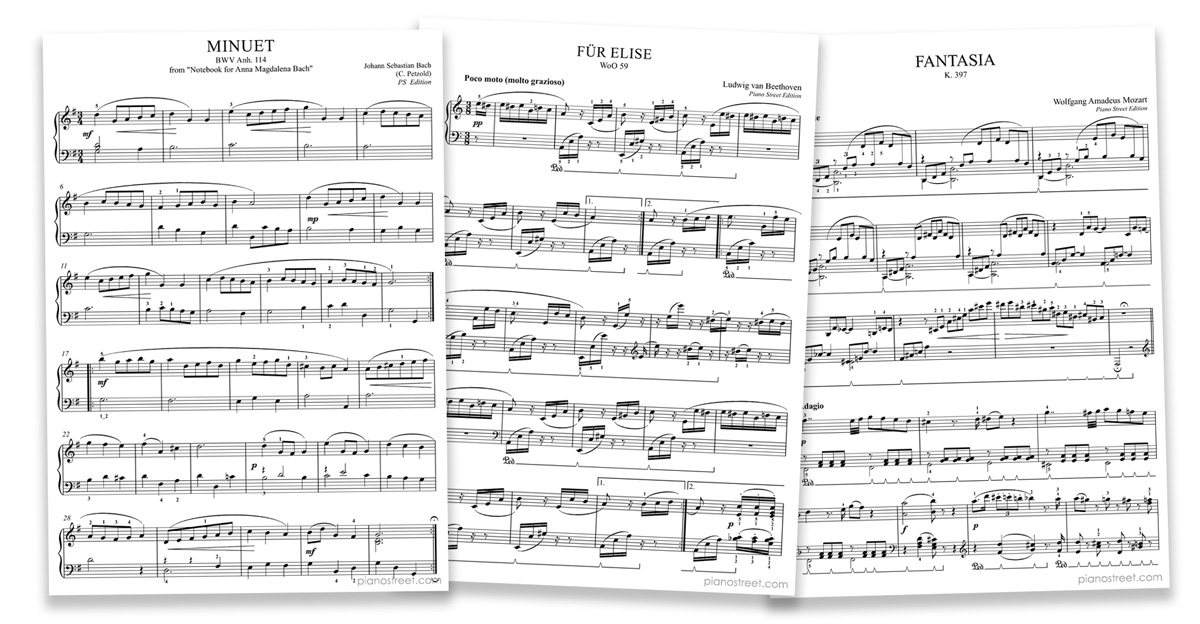 PS Instructive Edition
This type of score contains extensive instructions, a "Practice Guide" and "Practice Score". Read more on
this page.
PS Edition is the category of scores edited in a traditional way to be suitable for teaching and for less experienced players. They contain consistent articulation and dynamic markings as well as fingering.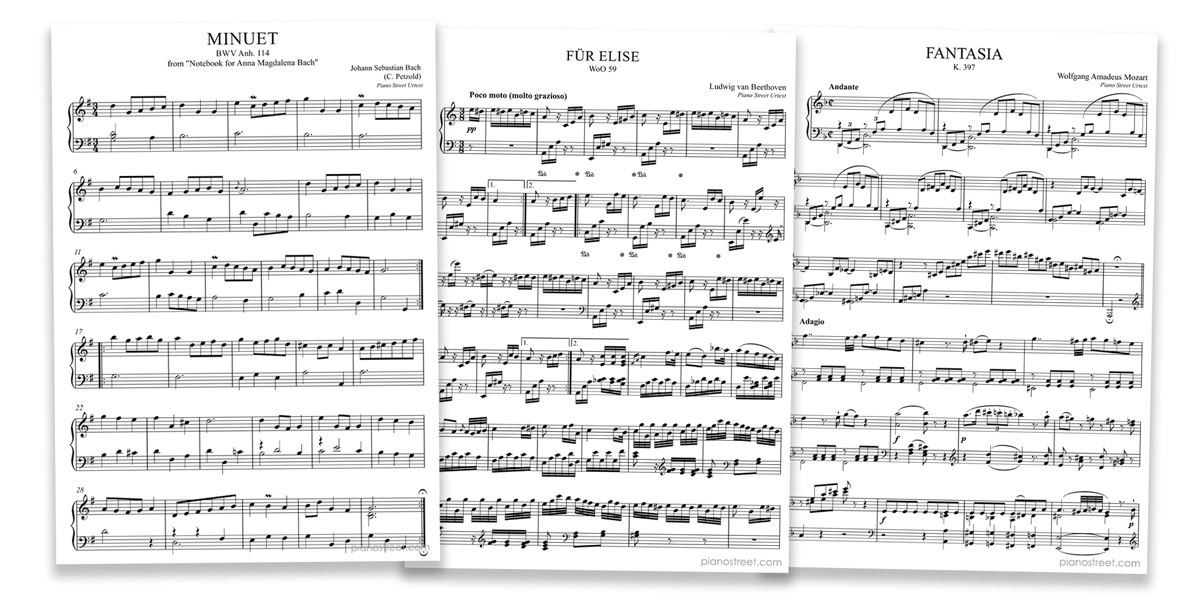 PS Urtext has no additions or modifications by our editors since the main purpose of the "urtext" concept is to present an authentic and reliable version of the composition. In order to make the scores as clean and user friendly as possible, parentheses, brackets or footnotes are kept to a minimum. The aim is instead to present the most valid version, trying to follow consensus among prominent scholars and pianists rather than making controversial decisions. The Urtext scores do not have fingering except in cases where the composer has given fingering suggestions.
| Composer | Title | Key | Type | Level |
| --- | --- | --- | --- | --- |
| Vanhal | Cantabile - from Sonatina Op. 41 No. 4 | G Major | Sonata | 2 |
| Vanhal | Allegretto - from Sonatina Op. 41 No. 12 | A Major | Sonata | 4 |
| Telemann | Très vite - from Fantasy TWV 33:21 | E Minor | Piece | 3 |
| Stölzel | Bourrée | G Minor | Piece | 4 |
| Speer | Air | D Minor | Piece | 1 |
| Smetana | Waltz | G Major | Piece | 2 |
| Seixas | Allegro | F Major | Piece | 5 |
| Schytte | Study: Allegro | C Major | Study | 3 |
| Schytte | Study: Allegro moderato | A Minor | Study | 1 |
| Schytte | Study: Allegretto | D Major | Study | 2 |
| Schumann | Melody Op. 68 No. 1 | C Major | Piece | 3 |
| Schumann | Von fremden Ländern und Menschen Op. 15 No. 1 | G Major | Piece | 5 |
| Schumann | Kuriose Geschichte Op. 15 No. 2 | D Major | Piece | 6 |
| Schumann | Hasche-Mann Op. 15 No. 3 | B Minor | Piece | 8 |
| Schumann | Bittendes Kind Op. 15 No. 4 | D Major | Piece | 7 |
| Schumann | Glückes genug Op. 15 No. 5 | D Major | Piece | 7 |
| Schumann | Wichtige Begebenheit Op. 15 No. 6 | A Major | Piece | 7 |
| Schumann | Träumerei Op. 15 No. 7 | F Major | Piece | 7 |
| Schumann | Am Kamin Op. 15 No. 8 | F Major | Piece | 7 |
| Schumann | Ritter vom Steckenpferd Op. 15 No. 9 | C Major | Piece | 8 |
| Schumann | Fast zu ernst Op. 15 No. 10 | G-sharp Minor | Piece | 7 |
| Schumann | Fürchtenmachen Op. 15 No. 11 | E Minor | Piece | 7 |
| Schumann | Kind im Einschlummern Op. 15 No. 12 | E Minor | Piece | 6 |
| Schumann | Der Dichter spricht Op. 15 No. 13 | G Major | Piece | 6 |
| Schubert | Impromptu Op. 90 No. 1 | C Minor | Piece | 8 |
| Schubert | Impromptu Op. 90 No. 2 | E-flat Major | Piece | 7 |
| Schubert | Impromptu Op. 90 No. 3 | G-flat Major | Piece | 8 |
| Schubert | Impromptu Op. 90 No. 4 | A-flat Major | Piece | 7 |
| Schubert | Impromptu Op. 142 No. 1 | F Minor | Piece | 8+ |
| Schubert | Impromptu Op. 142 No. 2 | A-flat Major | Piece | 7 |
| Schubert | Impromptu Op. 142 No. 3 | B-flat Major | Piece | 8 |
| Schubert | Impromptu Op. 142 No. 4 | F Minor | Piece | 8+ |
| Schubert | Moment Musical Op. 94 D. 780 No. 1 | C Major | Piece | 7 |
| Schubert | Moment Musical Op. 94 D. 780 No. 2 | A-flat Major | Piece | 7 |
| Schubert | Moment Musical Op. 94 D. 780 No. 3 | F Minor | Piece | 7 |
| Schubert | Moment Musical Op. 94 D. 780 No. 4 | C-sharp Minor | Piece | 7 |
| Schubert | Moment Musical Op. 94 D. 780 No. 5 | F Minor | Piece | 7 |
| Schubert | Moment Musical Op. 94 D. 780 No. 6 | A-flat Major | Piece | 7 |
| Schubert | Sonata 12 - fragment D. 655 | C-sharp Minor | Sonata | 8 |
| Scarlatti | Sonata | G Minor | Sonata | 4 |
| Scarlatti | Sonata (Minuetto) K. 40 | C Minor | Sonata | 5 |
| Satie | Vexations | N/A | Piece | 5 |
| Rimsky-Korsakov | Flight of the Bumblebee - arr by Oborin | A Minor | Piece | 8+ |
| Rebikov | The Chinese Doll | C Major | Piece | 2 |
| Rebikov | The Clown | F Major | Piece | 3 |
| Rebikov | Playing Soldiers Op. 31 No. 4 | C Major | Piece | 3 |
| Rebikov | The Shepherd Plays on his Pipe Op. 31 No. 8 | B Minor | Piece | 3 |
| Rebikov | The Lame Witch Lurking in the Forest Op. 31 No. 9 | N/A | Piece | 3 |
| Rameau | Minuet in C | C Major | Piece | 2 |
| Rachmaninoff | Song Without Words | D Minor | Piece | 6 |
| Rachmaninoff | Prelude Op. 3 No. 2 | C-sharp Minor | Piece | 8 |
| Rachmaninoff | Rimsky-Korsakov: Flight of the Bumblebee | A Minor | Piece | 8+ |
| Purcell | March in C | C Major | Piece | 2 |
| Purcell | Old Dance Tune | E Minor | Piece | 2 |
| Purcell | Prelude - from Suite No. 5 Z 666 | C Major | Piece | 5 |
| Prokofiev | Toccata Op. 11 | D Minor | Piece | 8+ |
| Pachelbel | Canon - arranged by Oborin | D Major | Polyphonic | 2 |
| Pachelbel | Canon - arranged by Liapunov | D Major | Polyphonic | 6 |
| Mussorgsky | Pictures at an Exhibition | N/A | Suite | 8+ |
| Mozart | Piano Piece K. 33 | F Major | Piece | 3 |
| Mozart | Minuet K. 61 | C Major | Piece | 3 |
| Mozart | Minuet K. 94 | D Major | Piece | 3 |
| Mozart | Turkish March (Rondo Alla Turca) K. 331 | A Minor | Piece | 7 |
| Mozart | Fantasia K. 397 | D Minor | Piece | 6 |
| Mozart | Fantasy K. 475 | C Minor | Piece | 7 |
| Mozart | Rondo K. 485 | D Major | Piece | 6 |
| Mozart | Allegro K. 626 b/16 | D Major | Piece | 5 |
| Mozart | Allegro K. 1 c | F Major | Piece | 1 |
| Mozart | Minuet K. 1 e | G Major | Piece | 3 |
| Mozart | Minuet K. 2 | F Major | Piece | 2 |
| Mozart | Allegro K. 3 | B-flat Major | Piece | 2 |
| Mozart | Minuet K. 4 | F Major | Piece | 3 |
| Mozart | Minuet K. 5 | F Major | Piece | 3 |
| Mozart | Minuet K. 6 | C Major | Piece | 2 |
| Mozart | Minuet K. 7 | D Major | Piece | 2 |
| Mozart | Sonata 1 K. 279 | C Major | Sonata | 7 |
| Mozart | Sonata 2 K. 280 | F Major | Sonata | 7 |
| Mozart | Sonata 3 K. 281 | B-flat Major | Sonata | 7 |
| Mozart | Sonata 4 K. 282 | E-flat Major | Sonata | 7 |
| Mozart | Sonata 5 K. 283 | G Major | Sonata | 7 |
| Mozart | Sonata 6 K. 284 | D Major | Sonata | 7 |
| Mozart | Sonata 7 K. 309 | C Major | Sonata | 7 |
| Mozart | Sonata 8 K. 310 | A Minor | Sonata | 8 |
| Mozart | Sonata 9 K. 311 | D Major | Sonata | 7 |
| Mozart | Sonata 10 K. 330 | C Major | Sonata | 8 |
| Mozart | Sonata 11 K. 331 | A Major | Sonata | 8 |
| Mozart | Sonata 12 K. 332 | F Major | Sonata | 8 |
| Mozart | Sonata 13 K. 333 | B-flat Major | Sonata | 7 |
| Mozart | Sonata 14 K. 457 | C Minor | Sonata | 8 |
| Mozart | Sonata 15 K. 533 | F Major | Sonata | 8 |
| Mozart | Sonata 16 K. 545 | C Major | Sonata | 6 |
| Mozart | Sonata 17 K. 570 | B-flat Major | Sonata | 8 |
| Mozart | Sonata 18 K. 576 | D Major | Sonata | 8 |
| Mozart | Andante K. 15 nn | E-flat Major | Piece | 2 |
| Mozart | Rondo K. 15 ii | F Major | Piece | 4 |
| Mozart | 8 Variations on "Laat ons Juichen" K. 24 | G Major | Variations | 8 |
| Mozart | 7 Variations on "Willem van Nassau" K. 25 | D Major | Variations | 7 |
| Mozart | 6 Variations on "Mio caro Adone" K. 180 | G Major | Variations | 7 |
| Mozart | 12 Variations on "Twinkle, Twinkle Little Star" (Ah, vous dirai-je, maman) K. 265 | C Major | Variations | 7 |
| Mozart | 10 Variations on "Unser dummer Poebel meint" K. 455 | G Major | Variations | 8+ |
| Maykapar | At the Blacksmith Op. 8 No. 5 | B-flat Major | Piece | 3 |
| Maykapar | Tarantella Op. 33 No. 6 | B Minor | Piece | 5 |
| Maykapar | Quiet Morning Op. 33 No. 13 | F Major | Piece | 1 |
| Mayer | Miniature March | E Minor | Piece | 2 |
| Mayer | Study Op. 340 No. 2 | A Minor | Study | 3 |
| Löhlein | Balletto | F Major | Piece | 2 |
| Lully | Minuet | D Minor | Piece | 2 |
| Liapunov | A Doll's Lullaby Op. 59 No. 2 | E Minor | Piece | 3 |
| Lemoine | Study Op. 37 No. 10 | A Minor | Study | 2 |
| Köhler | Study: Allegro | C Major | Study | 1 |
| Köhler | Study: Moderato | C Major | Study | 3 |
| Köhler | Cock-A-Doodle Waltz Op. 243 No. 26 | A Major | Piece | 3 |
| Krieger | Minuet | A Minor | Piece | 1 |
| Krebs | Prelude on "Jesus, My Joy" | D Minor | Piece | 4 |
| Kirnberger | La Lutine | A Major | Piece | 4 |
| Hässler | Tempo di minuetto | C Major | Piece | 2 |
| Hässler | Moderato Op. 38 No. 5 | C Major | Polyphonic | 1 |
| Heller | Dedication Op. 138 No. 1 | C Major | Piece | 2 |
| Heller | Gentle Reproach Op. 138 No. 2 | F Major | Piece | 4 |
| Heller | Evening Twilight Op. 138 No. 3 | D Minor | Piece | 3 |
| Heller | Young Huntsman Op. 138 No. 4 | A Major | Piece | 4 |
| Heller | Gondola Song Op. 138 No. 5 | B Minor | Piece | 3 |
| Haydn | Allegro | F Major | Piece | 3 |
| Haydn | Allegro | F Major | Piece | 4 |
| Haydn | Ländler | C Major | Piece | 2 |
| Haydn | Minuet | G Major | Piece | 2 |
| Haydn | Minuet Hob. IX: 3 | G Major | Piece | 1 |
| Haydn | Allegro Hob. XVI: 8 | G Major | Piece | 3 |
| Haydn | Minuet Hob. IX: 8 | F Major | Piece | 2 |
| Haydn | German Dance Hob. IX: 12 | C Major | Piece | 2 |
| Haydn | German Dance Hob. IX: 12 | C Major | Piece | 3 |
| Haydn | German Dance Hob. IX: 22 | D Major | Piece | 1 |
| Haydn | Tedesca Hob. IX: 22 | G Major | Piece | 1 |
| Haydn | Gypsy Dance Hob. IX: 28 | C Minor | Piece | 2 |
| Haydn | Quadrille Hob. IX: 29 | C Major | Piece | 2 |
| Haydn | Sonata L. 1 Hob. XVI: 8 | G Major | Sonata | 5 |
| Haydn | Sonata L. 2 Hob. XVI: 7 | C Major | Sonata | 5 |
| Haydn | Sonata L. 9 Hob. XVI: 4 | D Major | Sonata | 6 |
| Haydn | Sonata L. 34 Hob. XVI: 33 | D Major | Sonata | 7 |
| Haydn | Sonata L. 35 Hob. XVI: 43 | A-flat Major | Sonata | 8 |
| Haydn | Sonata L. 48 Hob. XVI: 35 | C Major | Sonata | 7 |
| Haydn | Sonata L. 53 Hob. XVI: 34 | E Minor | Sonata | 7 |
| Haydn | Sonata L. 60 Hob. XVI: 50 | C Major | Sonata | 8 |
| Haydn | Sonata L. 62 Hob. XVI: 52 | E-flat Major | Sonata | 8 |
| Handel | Air | D Major | Piece | 1 |
| Handel | Impertinence | G Minor | Piece | 3 |
| Handel | Minuet | G Major | Piece | 2 |
| Handel | Sonatina in G, HWV 582 | G Major | Piece | 4 |
| Gurlitt | The Rocking Horse | C Major | Piece | 1 |
| Gurlitt | Little Waltz Op. 82 No. 18 | C Major | Piece | 1 |
| Gurlitt | Study in F Major Op. 82 No. 32 | F Major | Study | 1 |
| Gurlitt | Study in D minor Op. 82 No. 33 | D Minor | Study | 2 |
| Gurlitt | Study in E minor Op. 82 No. 35 | E Minor | Study | 1 |
| Gurlitt | Study in A minor Op. 82 No. 52 | A Minor | Study | 2 |
| Gurlitt | Study in C Major Op. 82 No. 55 | C Major | Study | 2 |
| Gurlitt | Night Journey Op. 82 No. 65 | D Minor | Piece | 2 |
| Gurlitt | The Chase Op. 117 No. 15 | C Major | Piece | 1 |
| Gurlitt | The Return Op. 117 No. 24 | C Major | Piece | 2 |
| Gurlitt | In the Garden Op. 140 No. 4 | C Major | Piece | 3 |
| Gurlitt | Rose Rock Op. 205 No. 8 | F Major | Piece | 4 |
| Gurlitt | A Little Flower Op. 205 No. 11 | B Minor | Piece | 3 |
| Grieg | Arietta Op. 12 No. 1 | E Major | Piece | 5 |
| Grieg | Waltz Op. 12 No. 2 | A Minor | Piece | 4 |
| Grieg | Watchman's Song Op. 12 No. 3 | E Major | Piece | 4 |
| Grieg | Fairy Dance Op. 12 No. 4 | E Minor | Piece | 6 |
| Grieg | Popular Melody Op. 12 No. 5 | F-sharp Minor | Piece | 5 |
| Grieg | Norwegian Melody Op. 12 No. 6 | D Major | Piece | 6 |
| Grieg | Album Leaf Op. 12 No. 7 | E Minor | Piece | 5 |
| Grieg | National Song Op. 12 No. 8 | E-flat Major | Piece | 4 |
| Granados | Dedication Op. 1 No. 1 | F Major | Piece | 4 |
| Granados | Lento con tenerezza Op. 1 No. 6 | E-flat Major | Piece | 3 |
| Glinka | Russian Dance | D Minor | Piece | 2 |
| Franck | Ave Maris Stella | D Minor | Transcription | 4 |
| Franck | Dolly's Complaint | G Major | Piece | 2 |
| Franck | Slow Dance | F Minor | Piece | 4 |
| Franck | Allegretto Vol. 1 No. 39 | F Minor | Piece | 5 |
| Franck | Allegretto amabile Vol. 1 No. 58 | A-flat Major | Piece | 4 |
| Franck | Allegretto moderato Vol. 2 No. 9 | A Major | Piece | 5 |
| Franck | Andantino quasi allegretto Vol. 1 No. 29 | G Major | Piece | 4 |
| Franck | Canon Vol. 1 No. 34 | E Major | Piece | 5 |
| Franck | Canon Vol. 1 No. 9 | D-flat Major | Piece | 5 |
| Franck | Christmas Carol from Anjou Vol. 1 No. 52 | G Major | Piece | 4 |
| Franck | Lento Vol. 1 No. 12 | C-sharp Minor | Piece | 4 |
| Franck | Poco allegro Vol. 1 No. 11 | C-sharp Minor | Piece | 4 |
| Franck | Poco allegro Vol. 1 No. 47 | F-sharp Minor | Piece | 5 |
| Franck | Poco lento Vol. 1 No. 46 | G-flat Major | Piece | 3 |
| Franck | Poco maestoso Vol. 1 No. 57 | A-flat Major | Piece | 4 |
| Franck | Song from Béarn Vol. 1 No. 44 | G Major | Piece | 4 |
| Franck | Song from the Cruese Vol. 1 No. 16 | D Minor | Piece | 3 |
| Field | Nocturne 5 | B-flat Major | Piece | 7 |
| Field | Nocturne 13 | D Minor | Piece | 7 |
| Field | Nocturne 16 | F Major | Piece | 7 |
| Fibich | Capriccio Op. 2 No. 4 | D Minor | Piece | 4 |
| Fibich | Piece Op. 47 No. 2 | C-sharp Minor | Piece | 4 |
| Dvorák | Album Leaf B 158 | E-flat Major | Piece | 3 |
| Dussek | Gavotte | F Major | Piece | 2 |
| Diabelli | Canzonetta | G Minor | Piece | 2 |
| Debussy | Danse bohémienne | B Minor | Piece | 7 |
| Debussy | Les soirs illuminés par l'ardeur du charbon | A-flat Major | Piece | 6 |
| Debussy | Page d'album | F Major | Piece | 6 |
| Debussy | La fille aux cheveux de lin | N/A | Piece | 7 |
| Debussy | Clair de Lune | D-flat Major | Piece | 7 |
| Debussy | Arabesque 1 | E Major | Piece | 7 |
| Czerny | Study in C Major Op. 261 No. 81 | C Major | Study | 3 |
| Czerny | Study in C Major Op. 599 No. 19 | C Major | Study | 1 |
| Couppey | Arabian Air | A Minor | Piece | 2 |
| Corelli | Sarabanda Op. 5 No. 7 | D Minor | Piece | 1 |
| Clementi | Sonatina Op. 36 No. 1 | C Major | Sonata | 3 |
| Clementi | Sonatina - 5th revised edition Op. 36 No. 1 | C Major | Sonata | 3 |
| Clementi | Sonatina Op. 36 No. 2 | G Major | Sonata | 4 |
| Clementi | Sonatina Op. 36 No. 3 | C Major | Sonata | 4 |
| Clementi | Sonatina Op. 36 No. 4 | F Major | Sonata | 5 |
| Clarke | A Trumpet minuet | C Major | Piece | 2 |
| Clarke | King William's March | D Major | Piece | 1 |
| Chopin | Bourrée 2 | A Major | Piece | 3 |
| Chopin | Galop Marquis | A-flat Major | Piece | 4 |
| Chopin | Wiosna B. 117 | G Minor | Piece | 3 |
| Chopin | Ballade 1 Op. 23 | G Minor | Piece | 8+ |
| Chopin | Ballade 2 Op. 38 | F Major | Piece | 8+ |
| Chopin | Ballade 3 Op. 47 | A-flat Major | Piece | 8+ |
| Chopin | Ballade 4 Op. 52 | F Minor | Piece | 8+ |
| Chopin | Etude Op. 10 No. 1 | C Major | Study | 8+ |
| Chopin | Etude Op. 10 No. 2 | A Minor | Study | 8+ |
| Chopin | Etude Op. 10 No. 3 | E Major | Study | 8 |
| Chopin | Etude Op. 10 No. 4 | C-sharp Minor | Study | 8+ |
| Chopin | Etude Op. 10 No. 5 | G-flat Major | Study | 8+ |
| Chopin | Etude Op. 10 No. 6 | E-flat Minor | Study | 8 |
| Chopin | Etude Op. 10 No. 7 | C Major | Study | 8+ |
| Chopin | Etude Op. 10 No. 8 | F Major | Study | 8+ |
| Chopin | Etude Op. 10 No. 9 | F Minor | Study | 8+ |
| Chopin | Etude Op. 10 No. 10 | A-flat Major | Study | 8+ |
| Chopin | Etude Op. 10 No. 11 | E-flat Major | Study | 8 |
| Chopin | Etude Op. 10 No. 12 | C Minor | Study | 8+ |
| Chopin | Etude Op. 25 No. 1 | A-flat Major | Study | 8 |
| Chopin | Etude Op. 25 No. 2 | F Minor | Study | 8 |
| Chopin | Etude Op. 25 No. 3 | F Major | Study | 8+ |
| Chopin | Etude Op. 25 No. 4 | A Minor | Study | 8 |
| Chopin | Etude Op. 25 No. 5 | E Minor | Study | 8 |
| Chopin | Etude Op. 25 No. 6 | G-sharp Minor | Study | 8+ |
| Chopin | Etude Op. 25 No. 7 | C-sharp Minor | Study | 8 |
| Chopin | Etude Op. 25 No. 8 | D-flat Major | Study | 8+ |
| Chopin | Etude Op. 25 No. 9 | G-flat Major | Study | 8 |
| Chopin | Etude Op. 25 No. 10 | B Minor | Study | 8+ |
| Chopin | Etude Op. 25 No. 11 | A Minor | Study | 8+ |
| Chopin | Etude Op. 25 No. 12 | C Minor | Study | 8+ |
| Chopin | Fantaisie-Impromptu Op. 66 | C-sharp Minor | Piece | 8+ |
| Chopin | Nocturne 20 B. 49 | C-sharp Minor | Piece | 8 |
| Chopin | Nocturne 21 B. 108 | C Minor | Piece | 7 |
| Chopin | Nocturne 1 Op. 9 No. 1 | B-flat Minor | Piece | 8 |
| Chopin | Nocturne 2 Op. 9 No. 2 | E-flat Major | Piece | 7 |
| Chopin | Nocturne 3 Op. 9 No. 3 | B Major | Piece | 7 |
| Chopin | Nocturne 4 Op. 15 No. 1 | F Major | Piece | 8 |
| Chopin | Nocturne 5 Op. 15 No. 2 | F-sharp Major | Piece | 7 |
| Chopin | Nocturne 6 Op. 15 No. 3 | G Minor | Piece | 7 |
| Chopin | Nocturne 7 Op. 27 No. 1 | C-sharp Minor | Piece | 8 |
| Chopin | Nocturne 8 Op. 27 No. 2 | D-flat Major | Piece | 8 |
| Chopin | Nocturne 9 Op. 32 No. 1 | B Major | Piece | 8 |
| Chopin | Nocturne 10 Op. 32 No. 2 | A-flat Major | Piece | 7 |
| Chopin | Nocturne 11 Op. 37 No. 1 | G Minor | Piece | 7 |
| Chopin | Nocturne 12 Op. 37 No. 2 | G Major | Piece | 7 |
| Chopin | Nocturne 13 Op. 48 No. 1 | C Minor | Piece | 8 |
| Chopin | Nocturne 14 Op. 48 No. 2 | F-sharp Minor | Piece | 8 |
| Chopin | Nocturne 15 Op. 55 No. 1 | F Minor | Piece | 7 |
| Chopin | Nocturne 16 Op. 55 No. 2 | E-flat Major | Piece | 7 |
| Chopin | Nocturne 17 Op. 62 No. 1 | B Major | Piece | 8 |
| Chopin | Nocturne 18 Op. 62 No. 2 | E Major | Piece | 8 |
| Chopin | Nocturne 19 Op. 72 No. 1 | E Minor | Piece | 7 |
| Chopin | Prelude KK IVb:7 | A-flat Major | Piece | 7 |
| Chopin | Prelude Op. 28 No. 1 | C Major | Piece | 8+ |
| Chopin | Prelude Op. 28 No. 2 | A Minor | Piece | 7 |
| Chopin | Prelude Op. 28 No. 3 | G Major | Piece | 8 |
| Chopin | Prelude Op. 28 No. 4 | E Minor | Piece | 5 |
| Chopin | Prelude Op. 28 No. 5 | D Major | Piece | 8+ |
| Chopin | Prelude Op. 28 No. 6 | B Minor | Piece | 6 |
| Chopin | Prelude Op. 28 No. 7 | A Major | Piece | 4 |
| Chopin | Prelude Op. 28 No. 8 | F-sharp Minor | Piece | 8+ |
| Chopin | Prelude Op. 28 No. 9 | E Major | Piece | 6 |
| Chopin | Prelude Op. 28 No. 10 | C-sharp Minor | Piece | 8 |
| Chopin | Prelude Op. 28 No. 11 | B Major | Piece | 8 |
| Chopin | Prelude Op. 28 No. 12 | G-sharp Minor | Piece | 8+ |
| Chopin | Prelude Op. 28 No. 13 | F-sharp Major | Piece | 8 |
| Chopin | Prelude Op. 28 No. 14 | E-flat Minor | Piece | 8+ |
| Chopin | Prelude (Raindrop) Op. 28 No. 15 | D-flat Major | Piece | 7 |
| Chopin | Prelude Op. 28 No. 16 | B-flat Minor | Piece | 8+ |
| Chopin | Prelude Op. 28 No. 17 | A-flat Major | Piece | 8+ |
| Chopin | Prelude Op. 28 No. 18 | F Minor | Piece | 8+ |
| Chopin | Prelude Op. 28 No. 19 | E-flat Major | Piece | 8+ |
| Chopin | Prelude Op. 28 No. 20 | C Minor | Piece | 6 |
| Chopin | Prelude Op. 28 No. 21 | B-flat Major | Piece | 8+ |
| Chopin | Prelude Op. 28 No. 22 | G Minor | Piece | 8+ |
| Chopin | Prelude Op. 28 No. 23 | F Major | Piece | 8+ |
| Chopin | Prelude Op. 28 No. 24 | D Minor | Piece | 8+ |
| Chopin | Prelude Op. 45 | C-sharp Minor | Piece | 7 |
| Chopin | Scherzo 1 Op. 20 | B Minor | Piece | 8+ |
| Chopin | Scherzo 2 Op. 31 | B-flat Minor | Piece | 8+ |
| Chopin | Scherzo 3 Op. 39 | C-sharp Minor | Piece | 8+ |
| Chopin | Scherzo 4 Op. 54 | E Major | Piece | 8+ |
| Chopin | Waltz 19 (Sostenuto) B. 150 | A Minor | Piece | 5 |
| Chopin | Waltz 18 B. 133 | E-flat Major | Piece | 5 |
| Chopin | Waltz 6 Op. 64 No. 1 | D-flat Major | Piece | 7 |
| Chopin | Waltz 7 Op. 64 No. 2 | C-sharp Minor | Piece | 7 |
| Camidge | Church Bells | C Major | Piece | 1 |
| Burgmüller | Confidence Op. 109 No. 1 | C Major | Study | 3 |
| Burgmüller | The Pearls Op. 109 No. 2 | C Major | Study | 3 |
| Burgmüller | The Shepherd's Return Op. 109 No. 3 | G Major | Study | 3 |
| Burgmüller | The Gypsies Op. 109 No. 4 | C Minor | Study | 3 |
| Burgmüller | The Spring Op. 109 No. 5 | G Major | Study | 4 |
| Burgmüller | The Merry Maiden Op. 109 No. 6 | C Major | Study | 5 |
| Burgmüller | Lullaby Op. 109 No. 7 | F Major | Study | 3 |
| Burgmüller | Agitato Op. 109 No. 8 | E Minor | Study | 5 |
| Burgmüller | Morning Bell Op. 109 No. 9 | A-flat Major | Study | 3 |
| Burgmüller | Velocity Op. 109 No. 10 | C Major | Study | 4 |
| Burgmüller | Serenade Op. 109 No. 11 | A Minor | Study | 4 |
| Burgmüller | Awakening in the Woods Op. 109 No. 12 | F Major | Study | 5 |
| Burgmüller | The Storm Op. 109 No. 13 | D Minor | Study | 5 |
| Burgmüller | Song of the Gondolier Op. 109 No. 14 | A Major | Study | 3 |
| Burgmüller | Sylph Op. 109 No. 15 | G Minor | Study | 4 |
| Burgmüller | Parting Op. 109 No. 16 | E-flat Major | Study | 4 |
| Burgmüller | March Op. 109 No. 17 | F Major | Study | 4 |
| Burgmüller | Spinning Song Op. 109 No. 18 | D Major | Study | 5 |
| Burgmüller | Candour Op. 100 No. 1 | C Major | Study | 2 |
| Burgmüller | Arabesque Op. 100 No. 2 | A Minor | Piece | 2 |
| Burgmüller | Pastoral Op. 100 No. 3 | G Major | Study | 2 |
| Burgmüller | The Small Gathering Op. 100 No. 4 | C Major | Study | 3 |
| Burgmüller | Innocence Op. 100 No. 5 | C Major | Study | 2 |
| Burgmüller | Progress Op. 100 No. 6 | C Major | Study | 4 |
| Burgmüller | The Clear little Stream Op. 100 No. 7 | G Major | Study | 3 |
| Burgmüller | With Grace Op. 100 No. 8 | F Major | Study | 4 |
| Burgmüller | The Hunt Op. 100 No. 9 | C Major | Study | 4 |
| Burgmüller | The Tender Blossom Op. 100 No. 10 | D Major | Study | 3 |
| Burgmüller | The Wagtail Op. 100 No. 11 | C Major | Study | 4 |
| Burgmüller | The Farewell Op. 100 No. 12 | A Minor | Study | 3 |
| Burgmüller | Comfort Op. 100 No. 13 | C Major | Study | 3 |
| Burgmüller | Styrian Dance Op. 100 No. 14 | G Major | Study | 3 |
| Burgmüller | Ballade Op. 100 No. 15 | C Minor | Piece | 4 |
| Burgmüller | Gentle Complaint Op. 100 No. 16 | G Minor | Study | 3 |
| Burgmüller | Chatterbox Op. 100 No. 17 | F Major | Study | 3 |
| Burgmüller | Restlessness Op. 100 No. 18 | E Minor | Study | 4 |
| Burgmüller | Ave Maria Op. 100 No. 19 | A Major | Study | 2 |
| Burgmüller | Tarantella Op. 100 No. 20 | D Minor | Study | 4 |
| Burgmüller | The Music of the Angels Op. 100 No. 21 | G Major | Study | 3 |
| Burgmüller | The Gondolier's Song Op. 100 No. 22 | A-flat Major | Study | 3 |
| Burgmüller | The Return Op. 100 No. 23 | E-flat Major | Study | 5 |
| Burgmüller | The Swallow Op. 100 No. 24 | G Major | Study | 4 |
| Burgmüller | Trotting Op. 100 No. 25 | C Major | Study | 5 |
| Brahms | Albumblatt | A Minor | Piece | 6 |
| Brahms | Intermezzo Op. 118 No. 2 | A Major | Piece | 8+ |
| Brahms | Intermezzo Op. 117 No. 1 | E-flat Major | Piece | 8 |
| Beethoven | Für Elise | A Minor | Piece | 5 |
| Beethoven | Russian Folk Song Op. 107 No. 7 | A Minor | Piece | 2 |
| Beethoven | Bagatelle WoO 56 | C Major | Piece | 4 |
| Beethoven | Bagatelle Op. 119 No. 1 | G Minor | Piece | 6 |
| Beethoven | Bagatelle Op. 119 No. 2 | C Major | Piece | 7 |
| Beethoven | Bagatelle Op. 119 No. 3 | D Major | Piece | 7 |
| Beethoven | Bagatelle Op. 119 No. 4 | A Major | Piece | 6 |
| Beethoven | Bagatelle Op. 119 No. 5 | C Minor | Piece | 6 |
| Beethoven | Bagatelle Op. 119 No. 6 | G Major | Piece | 7 |
| Beethoven | Bagatelle Op. 119 No. 7 | C Major | Piece | 8 |
| Beethoven | Bagatelle Op. 119 No. 8 | C Major | Piece | 7 |
| Beethoven | Bagatelle Op. 119 No. 9 | A Minor | Piece | 6 |
| Beethoven | Bagatelle Op. 119 No. 10 | A Major | Piece | 4 |
| Beethoven | Bagatelle Op. 119 No. 11 | B-flat Major | Piece | 7 |
| Beethoven | Bagatelle Op. 126 No. 1 | G Major | Piece | 7 |
| Beethoven | Bagatelle Op. 126 No. 2 | G Minor | Piece | 7 |
| Beethoven | Bagatelle Op. 126 No. 3 | E-flat Major | Piece | 7 |
| Beethoven | Bagatelle Op. 126 No. 4 | B Minor | Piece | 6 |
| Beethoven | Bagatelle Op. 126 No. 5 | G Major | Piece | 5 |
| Beethoven | Bagatelle Op. 126 No. 6 | E-flat Major | Piece | 6 |
| Beethoven | Ecossaise WoO 86 | E-flat Major | Piece | 2 |
| Beethoven | Ecossaise WoO 23 | G Major | Piece | 3 |
| Beethoven | German Dance WoO 8 No. 1 | C Major | Piece | 2 |
| Beethoven | German Dance WoO 42 No. 1 | F Major | Piece | 2 |
| Beethoven | German Dance WoO 42 No. 2 | D Major | Piece | 2 |
| Beethoven | German Dance WoO 42 No. 3 | F Major | Piece | 2 |
| Beethoven | German Dance WoO 42 No. 4 | A Major | Piece | 2 |
| Beethoven | German Dance WoO 42 No. 5 | D Major | Piece | 2 |
| Beethoven | Sonata 1 Op. 2 No. 1 | F Minor | Sonata | 8 |
| Beethoven | Sonata 2 Op. 2 No. 2 | A Major | Sonata | 8+ |
| Beethoven | Sonata 3 Op. 2 No. 3 | C Major | Sonata | 8+ |
| Beethoven | Sonata 8 (Pathéthique) Op. 13 | C Minor | Sonata | 8+ |
| Beethoven | Sonata 14 (Moonlight) Op. 27 No. 2 | C-sharp Minor | Sonata | 8+ |
| Beethoven | Sonata 17 (The Tempest) Op. 31 No. 2 | D Minor | Sonata | 8+ |
| Beethoven | Sonata 19 Op. 49 No. 1 | G Minor | Sonata | 6 |
| Beethoven | Sonata 20 Op. 49 No. 2 | G Major | Sonata | 5 |
| Beethoven | Sonata 23 (Appassionata) Op. 57 | F Minor | Sonata | 8+ |
| Beethoven | Sonata 25 Op. 79 | G Major | Sonata | 7 |
| Beethoven | Sonata 30 Op. 109 | E Major | Sonata | 8+ |
| Beethoven | Sonata 31 Op. 110 | A-flat Major | Sonata | 8+ |
| Beethoven | Sonata 32 Op. 111 | C Minor | Sonata | 8+ |
| Beethoven | Sonatina 7 Anh. 5/2 | F Major | Sonata | 5 |
| Beethoven | 32 Variations WoO 80 | C Minor | Variations | 8+ |
| Beethoven | Six Easy Variations WoO 77 | G Major | Variations | 7 |
| Beethoven | Six Variations on "Nel cor più non mi sento" by Paisiello WoO 70 | G Major | Variations | 8+ |
| Baumfelder | Melody | F Major | Piece | 1 |
| Bach | Allegro | G Major | Piece | 3 |
| Bach | Aria | F Major | Piece | 1 |
| Bach | Solfeggio | D Major | Piece | 3 |
| Bach | Jesu, Joy of Man's Desiring BWV 147 | G Major | Transcription | 7 |
| Bach | Small Prelude BWV 939 | C Major | Piece | 3 |
| Bach | Italian Concerto BWV 971 | F Major | Piece | 8 |
| Bach | Goldberg Variations BWV 988 | G Major | Polyphonic, Variations | 8+ |
| Bach | French Suite 1 BWV 812 | D Minor | Polyphonic, Suite | 8 |
| Bach | French Suite 2 BWV 813 | C Minor | Polyphonic, Suite | 8 |
| Bach | French Suite 3 BWV 814 | B Minor | Polyphonic, Suite | 8 |
| Bach | French Suite 4 BWV 815 | E-flat Major | Polyphonic, Suite | 8 |
| Bach | French Suite 5 BWV 816 | G Major | Polyphonic, Suite | 8 |
| Bach | French Suite 6 BWV 817 | E Major | Polyphonic, Suite | 8 |
| Bach | Invention 1 BWV 772 | C Major | Polyphonic, Piece | 5 |
| Bach | Invention 2 BWV 773 | C Minor | Polyphonic, Piece | 5 |
| Bach | Invention 3 BWV 774 | D Major | Polyphonic, Piece | 5 |
| Bach | Invention 4 BWV 775 | D Minor | Polyphonic, Piece | 5 |
| Bach | Invention 5 BWV 776 | E-flat Major | Polyphonic, Piece | 5 |
| Bach | Invention 6 BWV 777 | E Major | Polyphonic, Piece | 5 |
| Bach | Invention 7 BWV 778 | E Minor | Polyphonic, Piece | 6 |
| Bach | Invention 8 BWV 779 | F Major | Polyphonic, Piece | 6 |
| Bach | Invention 9 BWV 780 | F Minor | Polyphonic, Piece | 6 |
| Bach | Invention 10 BWV 781 | G Major | Polyphonic, Piece | 6 |
| Bach | Invention 11 BWV 782 | G Minor | Polyphonic, Piece | 6 |
| Bach | Invention 12 BWV 783 | A Major | Polyphonic, Piece | 6 |
| Bach | Invention 13 BWV 784 | A Minor | Polyphonic, Piece | 6 |
| Bach | Invention 14 BWV 785 | B-flat Major | Polyphonic, Piece | 6 |
| Bach | Invention 15 BWV 786 | B Minor | Polyphonic, Piece | 6 |
| Bach | March BWV Anh. 122 | D Major | Piece | 2 |
| Bach | March BWV Anh. 127 | E-flat Major | Piece | 4 |
| Bach | Minuet BWV Anh. 114 | G Major | Piece | 2 |
| Bach | Minuet BWV Anh. 116 | G Major | Piece | 3 |
| Bach | Minuet BWV Anh. 115 | G Minor | Piece | 2 |
| Bach | Musette BWV Anh. 126 | D Major | Piece | 2 |
| Bach | Prelude & Fugue 1 BWV 846 | C Major | Polyphonic, Piece | 8 |
| Bach | Prelude & Fugue 2 BWV 847 | C Minor | Polyphonic, Piece | 7 |
| Bach | Prelude & Fugue 3 BWV 848 | C-sharp Major | Polyphonic, Piece | 7 |
| Bach | Prelude & Fugue 4 BWV 849 | C-sharp Minor | Polyphonic, Piece | 8 |
| Bach | Prelude & Fugue 5 BWV 850 | D Major | Polyphonic, Piece | 8 |
| Bach | Prelude & Fugue 6 BWV 851 | D Minor | Polyphonic, Piece | 7 |
| Bach | Prelude & Fugue 7 BWV 852 | E-flat Major | Polyphonic, Piece | 8 |
| Bach | Prelude & Fugue 8 BWV 853 | E-flat Minor | Polyphonic, Piece | 8 |
| Bach | Prelude & Fugue 9 BWV 854 | E Major | Polyphonic, Piece | 8 |
| Bach | Prelude & Fugue 10 BWV 855 | E Minor | Polyphonic, Piece | 8 |
| Bach | Prelude & Fugue 11 BWV 856 | F Major | Polyphonic, Piece | 8 |
| Bach | Prelude & Fugue 12 BWV 857 | F Minor | Polyphonic, Piece | 8 |
| Bach | Prelude & Fugue 13 BWV 858 | F-sharp Major | Polyphonic, Piece | 8 |
| Bach | Prelude & Fugue 14 BWV 859 | F-sharp Minor | Polyphonic, Piece | 8 |
| Bach | Prelude & Fugue 15 BWV 860 | G Major | Polyphonic, Piece | 8 |
| Bach | Prelude & Fugue 16 BWV 861 | G Minor | Polyphonic, Piece | 8 |
| Bach | Prelude & Fugue 17 BWV 862 | A-flat Major | Polyphonic, Piece | 8 |
| Bach | Prelude & Fugue 18 BWV 863 | G-sharp Minor | Polyphonic, Piece | 8 |
| Bach | Prelude & Fugue 19 BWV 864 | A Major | Polyphonic, Piece | 8 |
| Bach | Prelude & Fugue 20 BWV 865 | A Minor | Polyphonic, Piece | 8 |
| Bach | Prelude & Fugue 21 BWV 866 | B-flat Major | Polyphonic, Piece | 8 |
| Bach | Prelude & Fugue 22 BWV 867 | B-flat Minor | Polyphonic, Piece | 8 |
| Bach | Prelude & Fugue 23 BWV 868 | B Major | Polyphonic, Piece | 8 |
| Bach | Prelude & Fugue 24 BWV 869 | B Minor | Polyphonic, Piece | 8 |
| Bach | Prelude & Fugue 1 BWV 870 | C Major | Polyphonic | 8 |
| Bach | Prelude & Fugue 2 BWV 871 | C Minor | Polyphonic | 8 |
| Bach | Prelude & Fugue 3 BWV 872 | C-sharp Major | Polyphonic | 8 |
| Bach | Prelude & Fugue 4 BWV 873 | C-sharp Minor | Polyphonic | 8 |
| Bach | Prelude & Fugue 5 BWV 874 | D Major | Polyphonic | 8 |
| Bach | Prelude & Fugue 6 BWV 875 | D Minor | Polyphonic | 8 |
| Bach | Prelude & Fugue 7 BWV 876 | E-flat Major | Polyphonic | 8 |
| Bach | Prelude & Fugue 8 BWV 877 | D-sharp Minor | Polyphonic | 8 |
| Bach | Prelude & Fugue 9 BWV 878 | E Major | Polyphonic | 8 |
| Bach | Prelude & Fugue 10 BWV 879 | E Minor | Polyphonic | 8 |
| Bach | Prelude & Fugue 11 BWV 880 | F Major | Polyphonic | 8 |
| Bach | Prelude & Fugue 12 BWV 881 | F Minor | Polyphonic | 8 |
| Bach | Prelude & Fugue 13 BWV 882 | F-sharp Major | Polyphonic | 8 |
| Bach | Prelude & Fugue 14 BWV 883 | F-sharp Minor | Polyphonic | 8 |
| Bach | Prelude & Fugue 15 BWV 884 | G Major | Polyphonic | 8 |
| Bach | Prelude & Fugue 16 BWV 885 | G Minor | Polyphonic | 8 |
| Bach | Prelude & Fugue 17 BWV 886 | A-flat Major | Polyphonic | 8 |
| Bach | Prelude & Fugue 18 BWV 887 | G-sharp Minor | Polyphonic | 8 |
| Bach | Prelude & Fugue 19 BWV 888 | A Major | Polyphonic | 8 |
| Bach | Prelude & Fugue 20 BWV 889 | A Minor | Polyphonic | 8 |
| Bach | Prelude & Fugue 21 BWV 890 | B-flat Major | Polyphonic | 8 |
| Bach | Prelude & Fugue 22 BWV 891 | B-flat Minor | Polyphonic | 8 |
| Bach | Prelude & Fugue 23 BWV 892 | B Major | Polyphonic | 8 |
| Bach | Prelude & Fugue 24 BWV 893 | B Minor | Polyphonic | 8 |
| Attwood | Allegretto - from Sonatina No. 3 | F Major | Piece | 2 |
| Attwood | Allegro - from Sonatina No. 2 | C Major | Piece | 2 |
| Attwood | Andante - from Sonatina No. 3 | D Minor | Piece | 1 |
| Arnold | Giga Op. 12 No. 2 | C Major | Piece | 1 |